future clinician's fund-raising event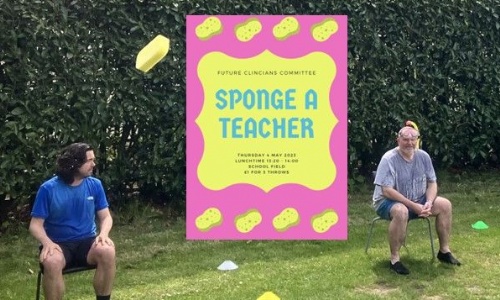 Drenched for a good cause!
Some of our Year 10 students who are already contemplating and planning for a medical career as members of the Future Clinicians' Committee arranged a special lunchtime Sponge a Teacher event this week. Its worthy objective was to raise funds towards the organisation of a forthcoming free health and well-being information event that will be held for the general public, and our students are involved in its planning and implementation. Some brave members of staff volunteered to participate in order to support the student's project, and were appreciative of the fact that the projected traditional Bank Holiday downpours held off until tomorrow!
But as ever there has been plenty more taking place at UG this week:
Sixth Form: on Tuesday a representative from UA92 visited school to deliver an inspiring talk to Year 13 about engaging with all available options and routes at this key time in order to optimise effective strategies towards personal well-being and achievement, and about development and progression in the next steps moving forwards through external exams, University and employment.
Year 12 parents and carers were also invited to a Post-18 Options Evening on Wednesday during which the Heads of Sixth Form and the Careers team provided key information on how students are supported in school in making choices for their future once they have completed their A Level studies, and they shared key aspects of the process and the range of opportunities and provision available to our students.
And while Local elections were held on Thursday, here at UG a new 6th Form School Council team were appointed; working with staff they ensure that the student voice is heard and maintained within the school community, and that it contributes towards ideas and initiatives to facilitate Sixth Form and whole school enrichment and development. Congratulations to the successful candidates!
Extra-curricular activities this week have included the re-launch of the Senior/Staff choir group and rehearsals, a great opportunity for Year 9-12 students and staff to literally work in harmony, and we look forward to hearing the results!
And our Year 7 football team are playing in the Trafford Cup this afternoon (Friday), best of luck!