Author Visit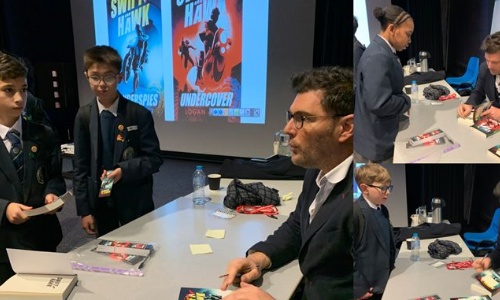 LoganMacX signs copies of books from his new series
With thanks to Urmston Bookshop, we were excited to welcome Logan MacX, aka author Ed Docx, to school on Monday 6th March to talk to us about his exciting new series of spy adventure books Swift and Hawk, that he co-writes with Matthew Plampin, and about the writing process itself.
Ed is an inspirational, engaging, and fun speaker, and from the outset he encouraged our students to interact and get involved, which our year 7s were inspired to do with huge enthusiasm, asking a multitude of pertinent questions.
Ed has had a long and successful career in journalism, in writing for TV, and in writing both adult and teenage fiction, and he shared with us many fascinating insights into the vagaries of getting copy ready on time. The huge number of football fans amongst us were fascinated by his revelations about when, as a sports journalist covering the legendary 1999 Champions League Final game in Barcelona, he had only minutes to send his updated report to his Editor when the match and its outcome completely changed in stoppage time with 2 goals in quick succession from Sheringham and Solskjaer, clinching United the Treble within the space of only a few minutes. This stimulated lots of questions from our students about careers in writing and its demands, and Ed was really interested to meet some of our aspiring journalists who have already started along their chosen path with their successful involvement in the BBC Young Reporter of the Year competition.
We were all really interested to hear about the mechanics of how a story is put together, what inspires characterisation and plot and how setting can interlink with these. As was demonstrated by the questions the students were inspired to ask about his books, Ed really got everyone thinking about the importance in fiction of introducing varied sets of characters and how diverse personalities and traits contribute to the success of a story. And our Year 7s impressed him with how they were able to discuss and identify the many examples of this that they have come across in their reading and in English lessons.
Speaking to the students afterwards it was clear how motivational and enjoyable they found Ed's visit, and the incentive it gave them to get writing and reading. And it's been fabulous to see so many reading the Swift and Hawk books in the last week, we're looking forward to the third instalment (which is about to move into production) already!
Report by K. Longden