Eve and Sylvie: CAPS AND BADGES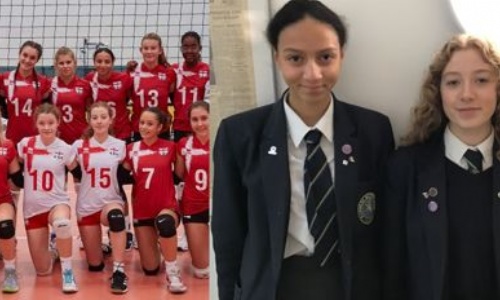 Eve and Sylvie sport their badges to mark their appearances for the England Volleyball Team
On the left, Eve and Sylvie display their respective no. 16 and 15 England shirts. On the right, they sport their badges for the matches in which they have represented the national team.
Both Year 11 girls had to make their way to Kettering to participate in trials to make the England team for their age group. Up against 100 other hopefuls, Eve and Sylvie successfully made selection for the England squad. After Kettering, a trip to Germany saw them play three matches for England: one against Germany, one v Portugal, and in the third their opponents were France.
Despite their success in being selected for the England squad, the England team has not been so successful in the matches they have played, sadly losing all three. As Eve conceded, "Volleyball has a much higher profile in each of our opponents' countries where beach volleyball is especially popular. We may have plenty of beaches in this country, but the summer weather is typically not reliable enough for matches to take place on a consistent basis."
Nevertheless, it is a great achievement for the Urmston Grammar students and another feather in the cap for their Urmston coaches. "There is no way we would have made it," said Sylvie," without the support and excellent coaching skills of Messrs. Ainsworth and Hines.