Online Chess Mates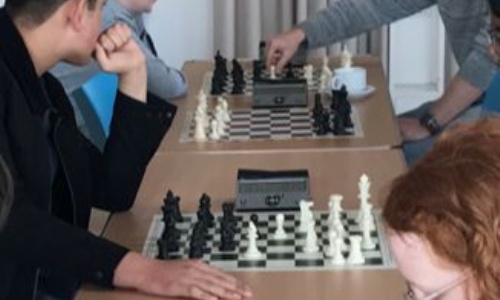 Urmston Grammar Chess Players Join Online League
Urmston Grammar chess players have jumped at the chance to be involved in a league which allows them to play other chess enthusiasts from schools around the UK from the comfort of their own homes.
In September, the school was approached by Justin Moston, who leads chess at Eton College, about the possibility of joining the second season of the Ivan Gromov online chess league. Justin established this competition last year, in memory of a chess-loving Eton student.
The league is made up of 34 teams from around England, and so far, our two Urmston teams have faced opponents from schools including Eton College, Magdalen College School, Brentwood School and Tiffin School. The Urmston teams are comprised of students from Years 8-13, and our players Donnie and David from year 10 say that the league "provides a competitive environment for Urmston students to harness their abilities". Whilst the level of competition has indeed been high, our A team have enjoyed victories against Brentwood School and Queen Elizabeth Hospital School Bristol, and the B team against Magdalen College School. All players have enjoyed this experience and are looking forward to the next league fixtures after the Christmas break.
To see further details of the Ivon Gromov online chess league, click on this link: Ivan Gromov League Season 2 | ECF League Management System