fun, challenge and bonding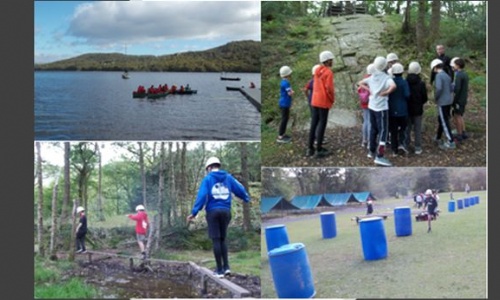 On the Lakeside Residential, we visited Lakeside YMCA. Here, we partook in a host of activities. On the first day, our arrival time at school was later than usual. I was suddenly feeling very self-conscious, as I was the only one who had arrived not wearing a Lakeside jumper, so I quickly withdrew mine from my suitcase and threw it on; then I didn't feel quite so conspicuous. Surrounded by our suitcases, we sat in the assembly hall, exchanging nervous whispers until the teachers were ready to pass on all the key information we required, not least of which was finding out which room we'd be in and who we'd be sharing with. Once this was sorted, we were escorted to the coaches, our luggage was loaded, and our journey commenced. And once having arrived at Lakeside, all that had previously been loaded was now unloaded and hauled off to the rooms in which we would be staying for the next two days.
We had all been placed into groups, and each group did a different activity at a different time.
The Activities:
Abseiling - in abseiling we were tied to a rope. We would climb a steep surface using this rope. We would then use the rope to assist us as we descended another surface from top to bottom.
King-swing - this is a large rope to which we were tied up at a very great height. We were then pulled back some considerable distance before being released, as if from a catapult, to swing at high altitude and at great speed.
Raft-building - in Raft building, we used logs, barrels and a type of knot to build a raft before trusting our construction to carry us a short distance out onto a lake then returning, once more, to shore.
Nightline - The nightline is a fairly easy obstacle course. But we were blindfolded. To reduce the risk of somebody inadvertently stumbling all the way back to Manchester in their blindfold, we were roped together in a line. The person at the front warned those behind of what was ahead - provided we could hear them over the top of others' screams!
Balance-balance is a sort of large see-saw that the whole group had to climb on, one by one, while maintaining the balance perfectly.
Zipline - This was, as the name suggests, a zipline. It started on a small wooden tower and came down to earth on the north side of the Lakeside campus.
Archery - in Archery, we were given bows, and we fired arrows at targets, one of which was - weirdly - coloured red white and red again, horizontally, just like the Austrian flag - yet nobody else seemed to notice this.
Canoeing - As the name suggests, canoeing was a task where we would get into canoes and paddle on the lake before returning to shore.
Fell-walk - This was a steep walk up a large hill. Hard work - but it presented us with great views!
Bush craft - in bush craft, we learnt how to make fire with a range of technologies, dating from long ago up to more recent times.
While at Lakeside, I couldn't shake the feeling that I had lost something. We returned to Urmston exhausted and very grateful that we had the weekend to recover. But I still couldn't stop that feeling that I'd left something behind. But the only thing that I'd 'lost' were three days in school. I think, somehow, that I and everyone else had gained a whole lot more!
Afonso