park win the house cup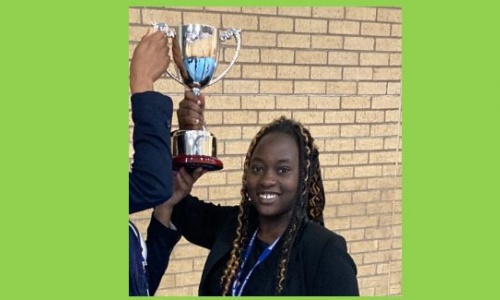 House Prefect, Beatrice, accepts the House Cup on Park's Behalf
In September, Urmston Grammar introduced a new house system. The five houses of the school are Bradfield, Orme, Mersey, Park and Oak. Students are all allocated to a house when they join the school. This connects them across the school with other students in the same house, and gives them a sense of identity and belonging which goes beyond the school as a whole and their own form and year groups.
It's also a great way to encourage the school's principles of Pride, Participation and Empathy, as students are able to earn points for themselves and their respective houses as they excel in their academic, social and community activities. Houses have engaged in charity fund-raising as well as gaining a sense of team through events like sports day.
Bradfield House, despite gaining 250 points for winning the school sports day, were not able to knock Park off the top spot, Park having gained the most points, across the board, for their individual and corporate efforts.
Well done, Park!