D of E Silver Award 2022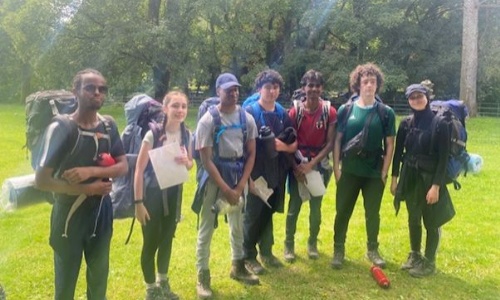 A group of year 12's recently completed their Silver Duke of Edinburgh award!
The award requires participation in a range of activities: from volunteering experience; to consistently employing a personal skill; and to involvement in a physical activity. These activities have to be performed within a time frame of 6-12 months on average and demonstrate the dedication and commitment required to complete this award.
After the students complete their range of activities, which for me personally was: ballet (physical), piano (skill) and Guides (volunteering), they are required to complete a three day assessed hike with two nights camping.
This time round for our assessed expedition we were in the Lake District – and we were fortunate to be there during a rare rainless spell! On the first day we set off near to midday after arriving at an Aquarium, and we started our hike to the campsite – this day wasn't too hard, though the heat added to the difficulty of the hike; nevertheless, everyone managed to arrive at the camp in good time. The second day was very difficult, for my group in particular, as it required a lot of mental resilience and a certain 'strength of character' to carry on walking when you feel you've already reached a point of physical and mental exhaustion – however, we did succeed in reaching our checkpoint where we received a highly motivational talk from one of the assessors, giving us the final push we needed for the last two hours of our hike. We even managed to complete it in an hour and a half – that was maybe owing to our urgent desire to sit down! The final day brought its own challenges: it was the hottest day so far, so we had to cope with the heat and an ever-depleting water supply, with steep inclines and descents to tackle in addition. However, we preserved and - surprisingly - arrived on time!
The Silver Duke of Edinburgh award, though challenging, does bring a certain level of satisfaction once completed. I was so proud of myself and my group, as we persevered through the trials we faced and worked together to motivate and encourage one another to finally 'conquer' the Duke of Edinburgh hike!
F.