Tributes to Maddison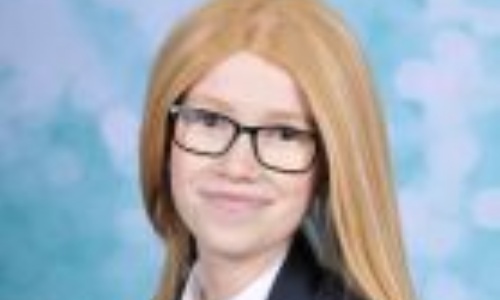 Maddison's Teachers Pay Their Respects
On the afternoon of 5th May, Moorside Road was lined by year 11 Urmston Grammar students, standing in silent respect as the funeral procession of fellow-student Maddison passed the school entrance.
Whilst deeply reverent and undoubtedly sad, this was also a celebration of a life well-lived. Maddison was a beacon of positivity, and that light continues to shine brightly in the memories of those who knew her and in the influence she has had upon those on whom her light fell.
Those who taught her have much to say in tribute to Maddison:
"What struck me about Maddison was that no matter how many lessons she had missed, she always seemed to approach the next with the same enthusiasm and willingness to have a go, and that her sense of humour came through even when writing in French."
"Maddie opted to study GCSE RS. I was so impressed with her commitment to the subject despite what she was going through. She would ask questions, challenge others and managed difficult topics extremely well. She would arrive to lessons with a smile on her face and complete all her written work. An unbelievably brave student!"
"I had the privilege of teaching Maddison in Year 7. She constantly exuded enthusiasm and positivity. And though I have not taught her since then, she never failed to pass me on school corridors or when I was performing lunchtime duties without the cheeriest of greetings and the brightest of smiles. She was a joy to be around!"
"I first met Maddie as her English teacher in Year 7. An earnest, open and very positive individual, Maddie was a popular presence in the class. Later, as her form tutor, I would regularly observe Maddie's kind and compassionate nature; she was always a friendly and supportive face and had such an approachable demeanour. Funny and original, teachers and students alike enjoyed her company. Furthermore, her take on the world and ideas about the topics we covered were always enriching and thoughtful.
"The morning when she chose to stand up in front of the form group and inform them about her illness captured the core qualities of Maddie as an individual: brave, determined and spirited. I will never forget that moment and will always remember that smiley, sunny young woman with admiration."
Maddison will always be an important part of our school community; we miss her.