competing with the big guns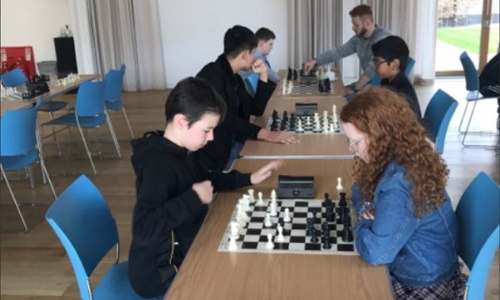 Year 7s and 8s compete with the best young chess players in the country
Darcy, Arun and Jack from Year 7, and Shahzaib and Dan from Year 8 were accompanied by Mr. Taylor and Mrs Chadwick to King's College School in Wimbledon over the Easter break. Here, the students competed in the finals of the ECF Junior Team Chess Challenge.
Having already seen off the best competitors in the North West, the team finished eighth in the country overall - a fabulous achievement! This was the school's first appearance in the national competition, and - needless to say - the team was competing against the very best young players in the country, many of them from elite private schools.
The team is pictured, along with Mr. Taylor, warming up before their first game.