NO CINDERS; JUST ELLAS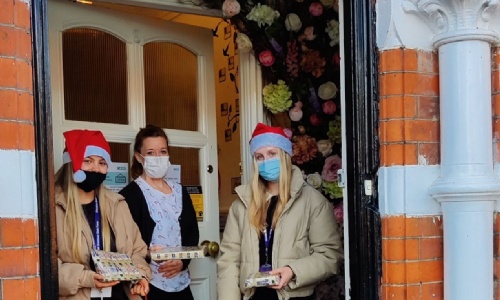 Two Ellas from our Sixth Form deliver Christmas Gifts to local senior citizens
Thanks to money donated in response to Mr. Dickson's Cheshire circular cycle ride, Ella and Ella from Urmston Grammar's sixth form have been able to deposit cards and Christmas gifts at Brookfield and Flixton Manor residential homes in M41.
Covid concerns have meant that the Sixth Form were not able to host a senior citizens' Christmas party at Urmston Grammar as has been the custom for many, many years past, but with such generous donations being paid into the charity fund, it has still been possible to share some Christmas cheer in the community.
As one of the staff members at Flixton Manor commented: "Not all of our residents will be visited by relatives this Christmas, so - for those residents in particular - these gifts will mean a great deal. Thank you, Urmston Grammar."