Going for Goal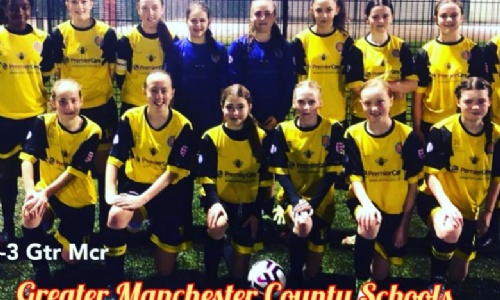 Ruby Calls the Shots for Girls' Football
A few months ago, there was an article featuring Ruby and her involvement in raising money for charity with her fellow teammates at Manchester United. Further investigation has revealed some interesting information about Ruby's burgeoning football career.
Ruby had played for Manchester United Girls since she was just 8 years old - initially training with the Under 9s group. The following year, she formally signed a playing contract for United's league entry level team - U10's - in the Timperley & District Junior Football League (TDFL). Ruby has played for United at u10, u11 and u12 level. Joining Manchester United on season long contract meant she was no longer allowed to play for other teams.
Although she still has a training contract with United, Ruby's playing contract ended in June 2020, meaning that she is now freed up to play for other teams. Said Ruby: "Not being offered a playing contract for this season initially came with huge disappointment, but this has since spurred me on to push myself harder and really work outside my comfort zone." Her experience with Manchester United has opened up all sorts of new opportunities for her. Ruby now plays for De La Salle u13 Reds on Saturdays in the Bolton and District JLF top division and Old Stretfordians' u13 Lions in the top division of the TDJFL. She is the only girl in either of these two teams! But - perhaps more impressive still - she is the only girl playing in each of the two leagues' top divisions. (Manchester United Girls u13s are in Division 2 of TDJFL).
Ruby first started playing football when she was 6 years old and she joined Brooklands Dragons Junior Football Club. In the Trafford and District Football League, Ruby has typically played in mixed teams, but she was part of the Brooklands' club's first ever all-girls team. Most of the teams that they played against were all-boys teams, although there is officially no such thing, as Football Association rules allow girls to play in 'mixed leagues' up to the u18 age group.
Ruby has recently been in trials for the Greater Manchester County Schools u14 team and has been successfully selected alongside girls from Blackburn Rovers, MUFC and Liverpool FC. Ruby says that she was very proud to represent Urmston Grammar for the Greater Manchester team in their opening Northwest Counties match against Cheshire. Ruby's Greater Manchester team won 3-0!
Ruby claims that: "Girls' football in the UK is still relatively small compared to the boys' (mixed) game. However, just since I started playing, the numbers involved in girls' football have grown massively!"
Whilst a disappointment, not getting a playing contract for Manchester United has actually significantly broadened Ruby's footballing horizons. "At Man U, I only ever played in defence," says Ruby. "Now I am playing in a variety of positions, including midfield and even, at county level, as striker!"
Ruby has gone on to say: "My ambition to one day play football professionally, either in UK or in America, means I dedicate 6 days a week either to training or to playing matches. My dream would be to lead England Women out at a sold-out Wembley Stadium - but I've got a long way to go to get there!"