GRATEFUL!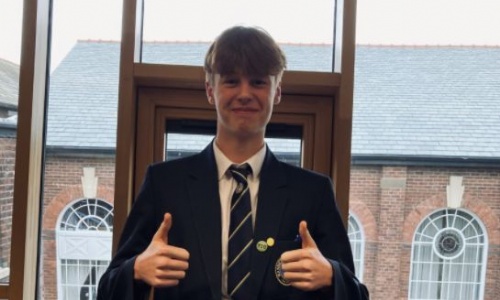 VOLLEYBALLERS EXPRESS THEIR THANKS AND EXPLAIN WHAT INSPIRES THEM
Pictured here is Oscar from Year 10. When asked about his response to hearing that he had successfully qualified for the England volleybal squad, he responded with this quotation from Phil Jackson: "The strength of the team is each individual member. The strength of each member is the team." He went on to thank his teammates, coaches and his family for the major contribution they have made in helping him to become so successful.
Year 11 student Caspar was also keen to express his gratitude. The main point he wanted to make was this: "It's not about how hard you hit. It's about how hard you can get hit and keep moving forward. How much you can take and keep moving forward, that's how winning is done." He went on to explain: "My volleyball journey started at the age of 11 where my newfound, verdant passion sprouted into a large oak tree. I was in awe at the power and precision of all the professional players including my very own coach Mr Ainsworth. He and many others allowed me to progress further than I ever thought was possible; they allowed me to reach goals that seemed unreachable. As I progressed, I saw fellow zealous teammates achieve the ultimate goal of reaching the England volleyball squad. This is what gave me my inspiration: it filled me with hope. I knew what I had to do, and it wasn't going to be easy. But I persevered, and now I have made it as an England volleyball player."