Serving for England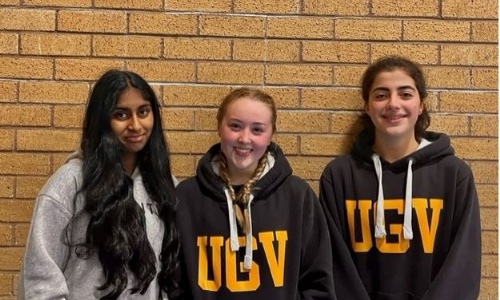 More Urmston Volleyballers make it into the England Squad!
Jayashree, Daisy and Lyn are just three among 11 Urmston Grammar students who have successfully completed volleyball trials for the England squad. Naturally, the students are delighted with their success.
Said Jayashree: "I'm really happy that I got into the England squad, and I'm really looking forward to see what it's like to play with the other girls in the team and participate in competitions." Lyn is feeling "happy and fulfilled, ready to grow and get even better" as she trains with the other successful trialists, while Daisy is feeling rightly "proud" of her "achievement."
Other students who successfully completed the England Cadets and Junior trials are: Caspar and Max from Year 11; Oscar, George, May, Eve, Emily and Emma - all from Year 10.
In all, Urmston Grammar now has a remarkable total of 17 current students and one former student as members of the England Cadets & England Junior squads!