architecture careers talk today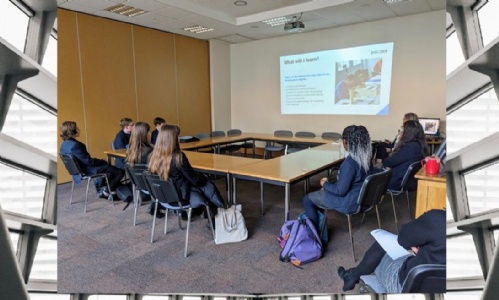 Students inspired by visiting representative from renowned Architecture practice
Today, as part of their ongoing provision for our students, the Careers department arranged a lunchtime presentation and Q&A on careers in the sector from visiting representative Emma Tanti, Senior Associate at the long-established award-winning practice Pozzoni Architecture, who have bases in both Altrincham and Brighton.
Emma's visit presented students with a first-hand opportunity to learn about the sector directly from a professional, and about all its related disciplines; and to be inspired to think about a multitude of connected careers and how to progress towards them.
It was a great opportunity not only for those who already have an interest in pursuing a path into architecture and connected fields such as design, planning, and the environment, but also for those who are still thinking through their next steps and career routes.
Emma's presentation informatively and comprehensively covered the basics of the profession, and what it involves, and students learnt that this is not simply the design and delivery of buildings, but of spaces, masterplans, designs and the whole built environment.
They were also inspired to think about whether architecture could be the profession for them; about the potential for the skillsets and interests that they already have - for example, a talent for crafting, drawing, creativity, or computer programming - to be developed towards a career in the sector; and about what the different degree options are that relate to the built environment.
Our students were also guided through the course content of undergraduate study in the field, the modes of learning, projects involved, and site visits; and the industry experience required upon completion of a degree, as well as the multi-faceted working experience once established in the sector. And there was a detailed introduction to the Royal Institute of British Architects (RIBA), its plan of work and the importance of membership to working in this profession.
But the talk was also really insightful about the many different professional areas that a degree in architecture can open up, such as Town Planning, Design Consultancy, Sustainability, and Heritage and Conservation; and the options to diversify once qualified, for example into Graphic/Product Design, Game Design and Estates Management.
And a wealth of information was shared about how and where to find out even more about the profession and related fields, and about the routes to qualifying and beyond.
Finally, our students enjoyed the invaluable opportunity to directly engage with and put their questions to Emma, in what rounded up a really inspiring experience for all who participated.
With huge thanks to Emma (and Pozzoni) for giving time, experience and expertise towards the enrichment of our students, and to Mrs Kinder and the Careers department for organising this opportunity.
.