year 12 criminology elective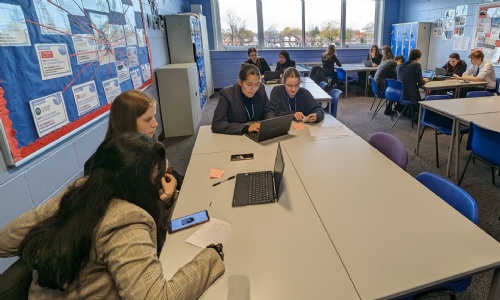 Year 12 opportunity to study Criminology as part of our Electives provision
As our Year 12 Electives programme continues, this week we focus on the option to undertake a 10 week course in Criminology, with some of the students who are currently enroled on the course pictured above.
Led by Sociology and Psychology teacher Miss Matthews, the course is now in its third year at UGS, and is a popular and beneficial option not only for Year 12s who are studying for A Levels in the Social Sciences, but for those who aspire to take degrees in these fields, and to study and pursue careers in Law, Forensic Science, Criminology and Law Enforcement.
Additionally, it is a great option for students who may be studying unrelated disciplines, but have an interest in the psychology of Criminal Behaviour and Behavioural Science; and like all of our Electives, this is an opportunity that enriches both wider learning and academic, personal and professional development, and paths into Higher Education and careers.
Miss Matthews explains the course content, objectives and outcomes for our students:
In Criminology, we explore a number of interesting ideas, such as does Prison work? We also study and compare the UK system to systems around the world.

Students get the opportunity to examine different types of crime, and why individuals may become criminals.

The course covers various types of crime and behavioural science studies into it, from white collar crime, to extreme crime such as serial killing; and we are currently looking at children who kill.

Many of the students who have completed the course have gone on to study Criminology in Higher Education. We do not run it as a full diploma, so it attracts and benefits students who either already want to study in this field, or who develop an interest in pursuing it as a result of undertaking this course.