year 7 silent disco - save the date!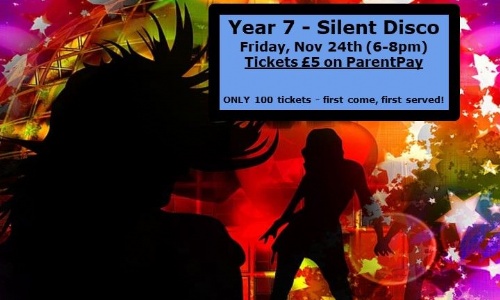 Exciting event coming up for our Year 7s on Friday 24th November!
As any fans of dance amongst you will know, the Strictly season is in full swing, and in 10 days time our own Year 7s will get the opportunity to showcase their moves on the dance-floor at the PTA Silent Disco!
This will be our very first Silent Disco at UGS, and we can't wait to see Year 7 enjoy what promises to be a fun night for all!
And don't worry about burning off energy on the floor, you'll be able to refuel at the Tuck Shop that will be open throughout the disco!
Taking place next Friday 24th November in our Main Hall, tickets are available to buy now on ParentPay, on a first-come first-served basis.
Year 7 you really don't want to miss out on the chance to join in and be a part of this epic night, so bag a ticket on ParentPay as soon as you can, as we are unable to sell tickets on the door!!