reading buddies literacy scheme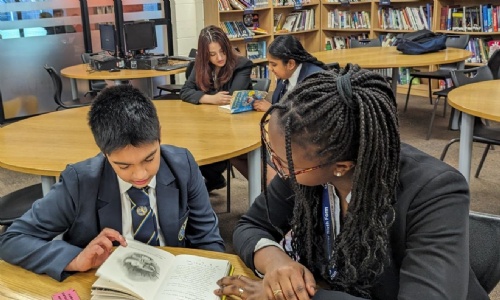 Year 12 work with KS3 students on Literacy Project
In our lead picture are just some of our Year 12s, who, in a great opportunity for all of our students, are volunteering to work with KS3 on our Reading Buddy scheme.
Front of picture is Fineness with Year 7 Ibrahim, with Betty and Year 7 Yasasvi in the background.
It is fantastic that our students from across the year groups are given this chance to work together not only to progress their reading skills and to contribute to the whole school literacy culture, but also to consolidate the school community and our ethos of Pride, Participation and Empathy; and to develop leadership and inter-personal skills that will prove invaluable to their academic and professional journeys.
Here Literacy Co-ordinator Miss Hammond shares the ethos behind the programme:
Our Reading Buddies programme has been set up in order that our Sixth Form students can share their own passion for reading and hopefully impart some wisdom to our year 7 students!

During form time, year 7 students meet with their buddies to read together. This is a great way for our year 7s to practise their reading skills and to find a friendly face amongst the older pupils.
It's lovely to see how much Sixth Form and KS3 students enjoy and reap the rewards of this successful scheme, and we look forward to welcoming new participants in the New Year.
Well Done all!