meeting England women's football team manager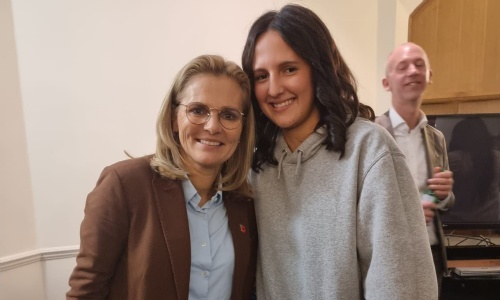 Year 12 Megan meets Sarina Wiegman at inspirational event in London
In an amazing opportunity for one of our students, Year 12 Megan met with the inspirational England Women's Football Team Manager Sarina Wiegman at the High Performance event at Westminster Cathedral.
Megan, who is passionate about football and is a Social Sciences student here, joined the live audience and Q&A for one of Sarina's only presentations in the UK, where she discussed her life, career, journey to her successes, and awards in both Dutch and English football, as well as her inspiration, and her winning leadership and management strategies.
Megan tells us about the experience:
I was invited to attend the event as my mum is friends with Damian Hughes, who is a psychologist and does the podcast with Jake Humphrey, who was a sports presenter and commentator for BT Sports.

What I took from the experience, and hearing Sarina speak, is firstly that there was lots that went on behind the scenes for the Lionesses and in Womens football during their success at the Euros in 2021, and it was a great insight into this.

And it was really inspirational to hear Sarina talk about her experience of starting out in football when girls and women weren't even allowed to play, and the challenges that she faced and overcame to get to where she is.

The message that Sarina strongly put across, and that will stay with me, is that if you want to do something, then just go for it, and don't let anyone or anything stand in your way.