black history month house reading champions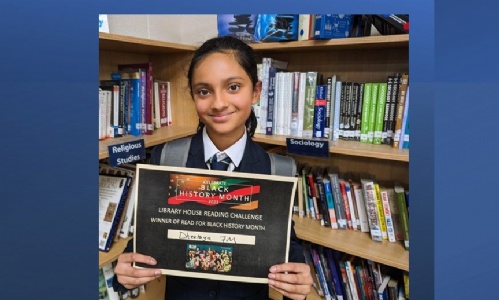 Celebrating the winners of our House Library Read for Black History Month Challenge
As part of our Black History Month celebrations, we launched a Read for Black History Month House Challenge, with students from across the year groups invited to explore our range of diverse fiction and non-fiction titles and e-books, and to learn more about Black History, Literature, and inspirational figures.
Our students did us proud with their level of participation, and we are thrilled to announce that the winners of the challenge are Dheethya 7M (Bradfield House) (pictured,) and Ibukun 8M (Orme House).
Dheethya has particularly enjoyed reading about the Civil Rights movement, and Rosa Parks's central role in this; she also took the opportunity to read Ralph Ellison's iconic and vitally important novel The Invisible Man for the first time.
Dheethya shares that for her, Black History Month is of vital importance in recognising and reflecting upon the need for mutual respect for all in society and culture.
Ibukun read an impressively high amount of fiction and non-fiction titles, and loved novels by Kwame Alexander, including Booked and Rebound, being impressed by what he describes as the author's unique writing style.
Additionally, Ibukun enjoyed reading the magnificent The Boy in the Black Suit by Jason Reynolds, and borrowed non-fiction titles to learn more about the vital contributions of Luther King and Mandela to the fight for Civil Rights.
Well done both, and to all our students who took the opportunity to fully engage with our Reading Challenge and with Black History Month!