let's sing!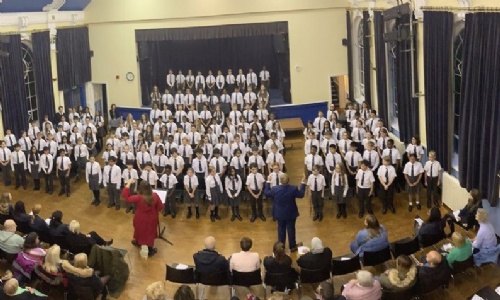 `Incredible Experience`: Fantastic Year 7 Evening of Song
It was amazing this evening to see Year 7 demonstrate their phenomenal singing talent during their Let's Sing performance, now in its 9th year here at UGS.
Following committed rehearsals (pictured below) that they fully embraced, Year 7 did us proud by throwing themselves heart and soul into a set list comprising songs and arrangements spanning decades and genres.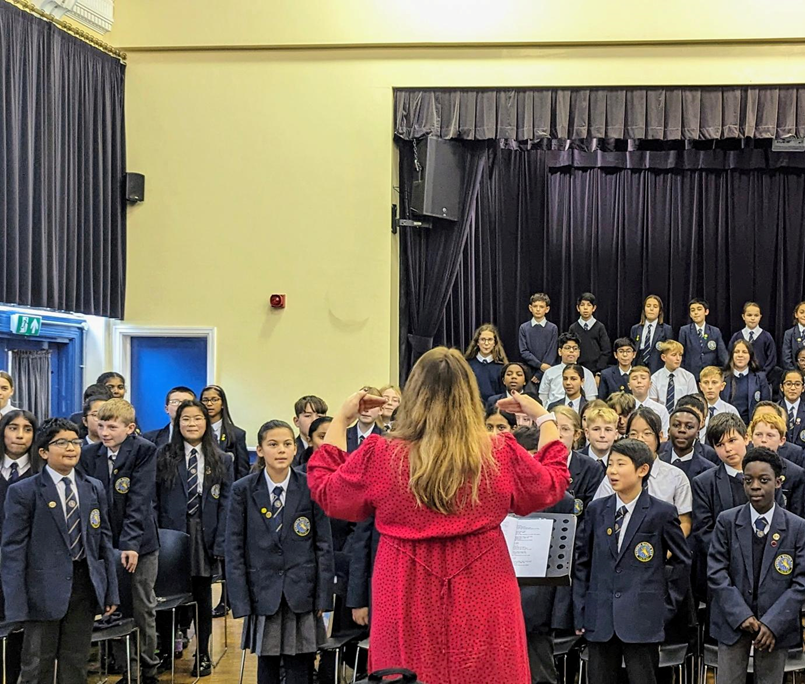 ​After a show-stopping whole year group opening of the 1970s Earth Wind and Fire Disco classic September, it was then the turn of each form to move us forward (and back again) through time, with individual form performances of tracks ranging from 7U with The Script's Hall of Fame, through to 7R's soaring version of Coldplay's Viva La Vida, which featured an absolutely outstandingly memorable solo from David.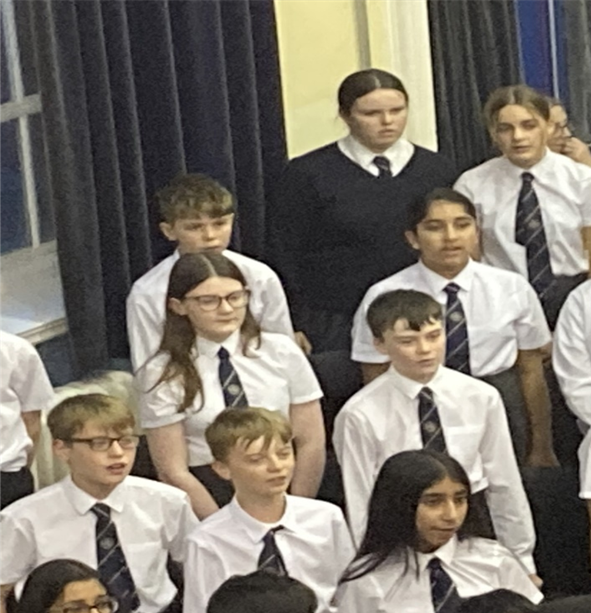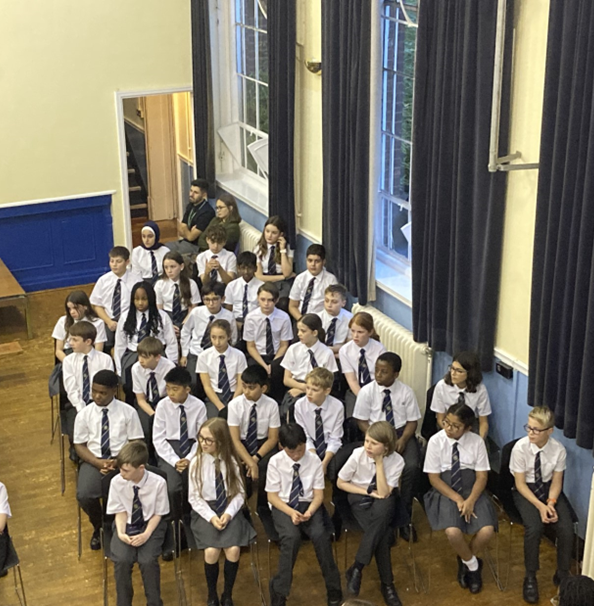 We were then treated to touching vocals from 7M on Ruth B's Lost Boy, an upbeat 7S interpretation of Elton John's I'm Still Standing (the Rocketman himself would have been proud, and 7S fully channelled the spirit of the punchy, joyously legendary Cannes-set video), and 7T's truly moving performance of Ben E King's Stand by Me, complete with heart-warming synchronised swaying in tune with the vocals.
In a rousing finale, the whole year group joined together once more in a magnificent and memorable five part arrangement of Coldplay's Yellow, and the time spent in rehearsal perfecting this performance shone through.
The joy of all the participants and audience was clear to see, and Let's Sing is not only an invaluable opportunity to participate and perform as a student community, but to build skills in confidence, as some of our Year 7s tell us here:
Lucy

It was an incredible experience. It was really fun to sing for all the parents, but it was also nerve-wracking going out to perform. Once we got started though, it got a lot easier!"

Kathryn

I found the concert really exciting and fun as I got to listen and to participate in singing with the whole of year 7. I felt slightly nervous at first, but I soon became confident as we all sang perfectly. I think my favourite part was listening to the other forms sing their songs - they were all amazing and spectacular to hear!

I truly felt proud of my year group - especially when we all got a round of applause! I am incredibly thankful to Ms Langham and Mr Harrison because without them, we would have never sounded this good at the concert.

Asfer

I really enjoyed Let's Sing. It was amazing singing in front of lots of people, and I am grateful to all of the staff and for our form tutor's support. My favourite bit was when my form sang Viva La Vida. And I really enjoyed the the five part harmony when we sang Yellow.

It was worth the tiredness - it was a fantastic performance!

Abigail

My favourite song that we performed was Yellow by Coldplay as it made me feel happy inside. Whilst I was listening to the other groups perform, I felt a wave of different emotions pass through me as their singing was fantastic! I was following the school ethos of PRIDE PARTICIPATION AND EMPATHY whilst taking part and I felt proud of myself when the audience applauded at the end of our first concert. And now I am excited and looking forward to the next one!
As Mrs Wall observed when she addressed the performers and parents, carers and staff at the end, the show was a lovely testimony to the drive and commitment of our Year 7s and the staff who support them, and of how they have grown as a collective and as individuals in their UGS journey so far.
With huge thanks to our talented Year 7s, to Ms Langham and Mr Harrison for organising and co-ordinating both the fabulous arrangements and the event from its inception, to Head of Year Miss Devenney-Lees, the form tutors, the Pastoral team, and to all the staff who have supported the students throughout the day and those who assisted in all aspects of the production.
And many thanks to all those who attended the performance, to Lana 7T for her gorgeously designed programme, and to Year 10 Ben for providing sound support.
​