year 12 achievement celebration and more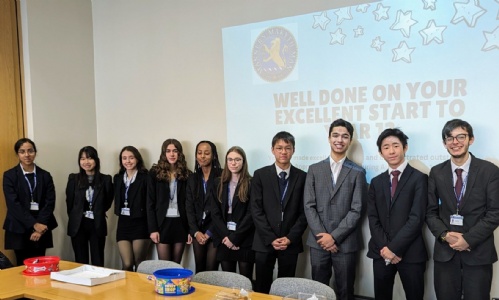 This morning we celebrated and recognised our outstanding Year 12 students & this afternoon the whole year group attended a powerful event
It was fantastic to end another hard-working week in Sixth Form with a celebration of Year 12 achievements, and a powerfully instructive trip in the afternoon.
The Sixth Form Leadership Team organised a special break time event to applaud and recognise our truly committed Year 12 students, who are exceeding expectations in all of their subjects, or have been awarded the highest score of 1 for Approach to Learning by their teachers in all of their subjects.
In the lead picture are just some of the amazing Year 12s who were commended today; and pictured below is Head of Year 12 Mr Neale personally congratulating them, and delivering a motivational speech on keeping up their fantastic work and their level of commitment to A Level courses.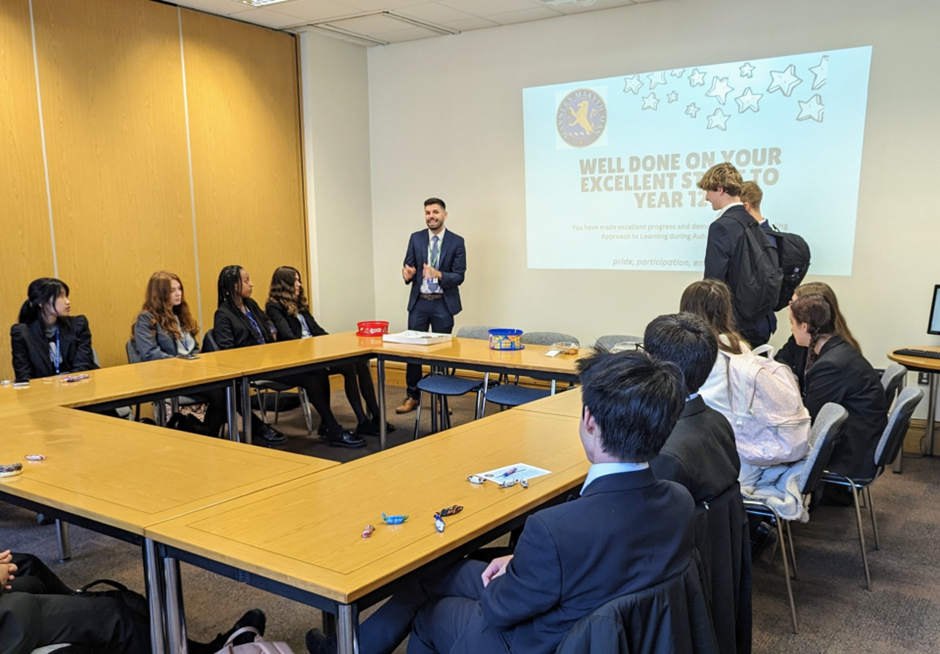 Head of Sixth Form Miss Lingwood, Head of Year 13 Mrs Mohamed, and Head Mrs Wall, pictured below sharing with the students her pride in them all, also took part in the celebration; in addition to staff and tutors who work with the students as they progress through our Sixth Form.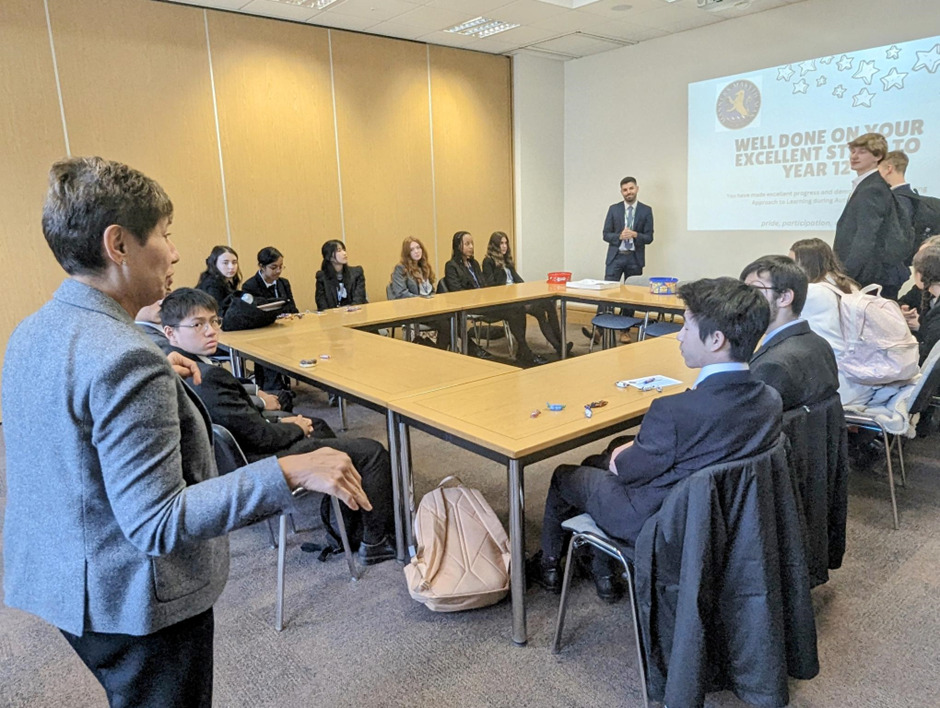 Really well done all, you truly are fantastic, and we can't wait to hear more about your successes moving forward!
With huge thanks to the Leadership Team for organising today's celebration, and to all the staff and mentors who support our students throughout their time in UGS Sixth Form.
Also today: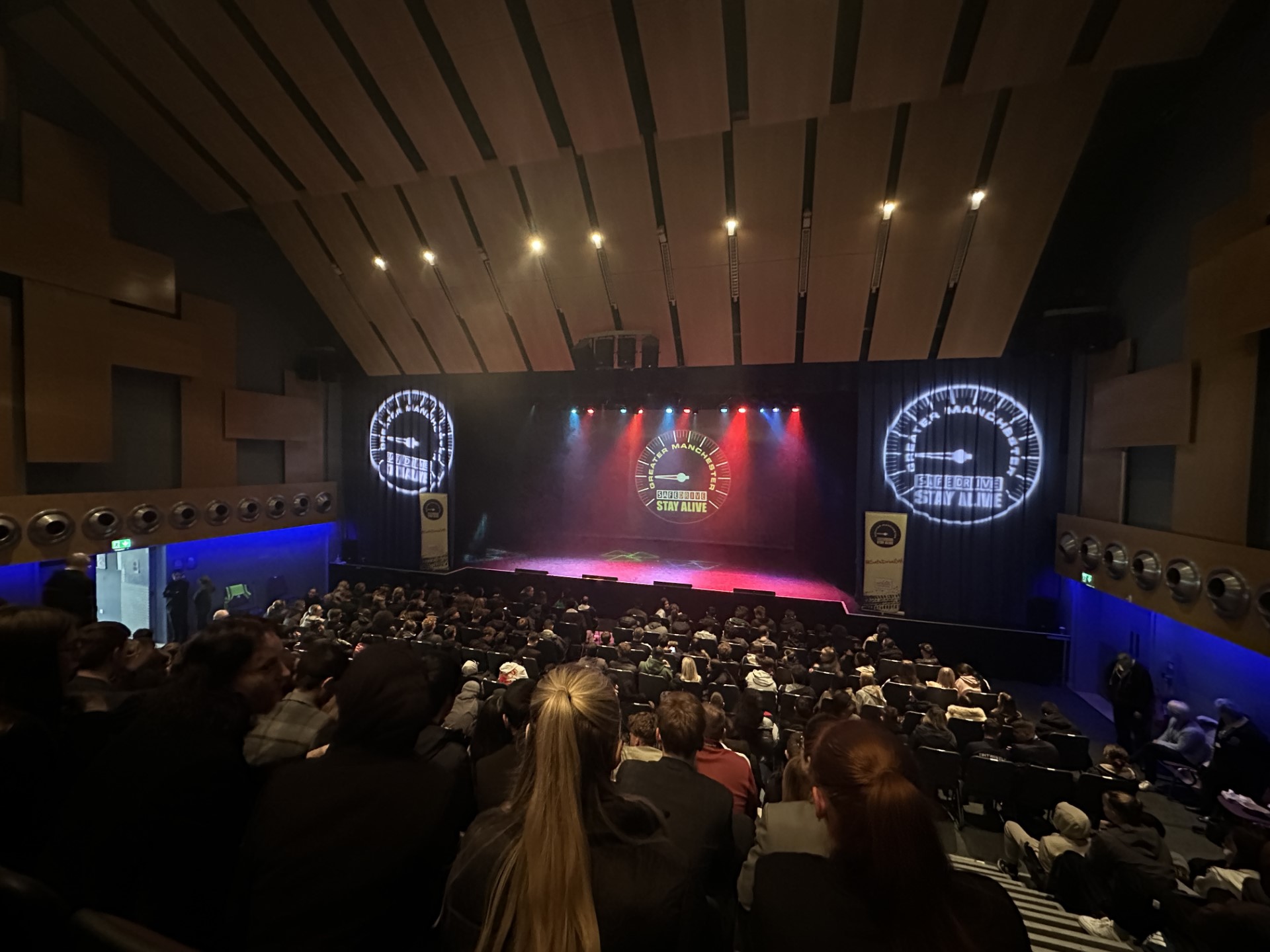 Pictured above are Year 12, supported by the Sixth Form Team and staff, participating in a whole year group outing to the Safe Drive Stay Alive conference at Middleton Arena. This was a thoroughly emotive and powerful experience, educating students on the importance of safe driving for themselves, passengers, the wider community and society, and was an invaluably thought-provoking experience for all involved.
Also this week in Sixth Form:
Year 12 hosted a representative from the University of Huddersfield, who presented and shared invaluable advice about maximising opportunities in Year 12, and on making decisions on next steps towards university course choices and applications, and chosen career paths.
EPQ Presentation Evening (please see separate article)
MedSoc for aspiring KS5 Medics