our short story winners: absolutely brilliant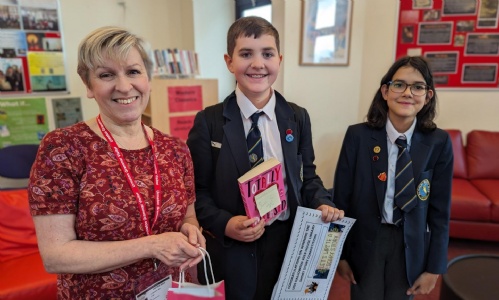 Guest judge author Sue Cunningham's praise for our amazing UGS writers!
Today it was our pleasure to celebrate the students who entered our House Spooky Short Story competition that we organised with the support of author Sue ahead of her visit to school for our event, and that was themed to tie in with the current season.
Our students from across the year groups did us proud, submitting a wide variety of inspired and carefully crafted pieces, with genres ranging from traditional ghost and spooky tales, to graphic-style short stories, and many were beautifully illustrated to boot.
Sue, who has just published her own supernatural mystery Totally Deceased, was blown away by the standard of writing, and took the time to provide each entrant with personally written and one-to-one feedback, which they were delighted to receive at the event yesterday.
Across the board, Sue was especially impressed with the level of descriptive writing, the visual evocations, the original concepts, the creation of atmosphere, the structuring, the intriguing opening hooks, the characterisation, and the unexpected twists. In many cases, as Sue shared with the students, she felt that the short stories could be successfully expanded into lengthier work.
After some tough decision-making, Sue was finally able to settle upon four winners. In the lead picture with her are two of our winners: Year 9 Sam and Year 7 Natalia, who wrote`The Coach House` and the Graphic story `Eye` respectively.
Sue loved Sam's attention to detail and brilliant unexpected twist. And she described Natalia's story as "absolutely brilliant, original and fantastically illustrated".
Pictured below is another of our winners Year 7 Grace, who impressed Sue with her story: `The Capybara in the Bathroom`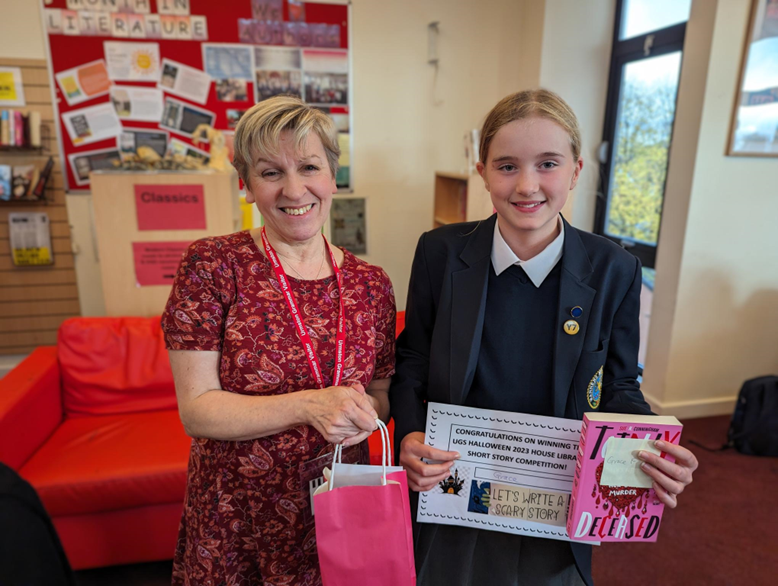 Sue described Grace's story as a "brilliant concept that really made me laugh, and I would love to know what happens next!"
And last but by no means least, pictured below is winner Ritvik, whose story "The Haunted Mansion" stood out for Sue for being so well-written, and for its "accomplished descriptive world building and clever concept" that would make a great idea for a novel.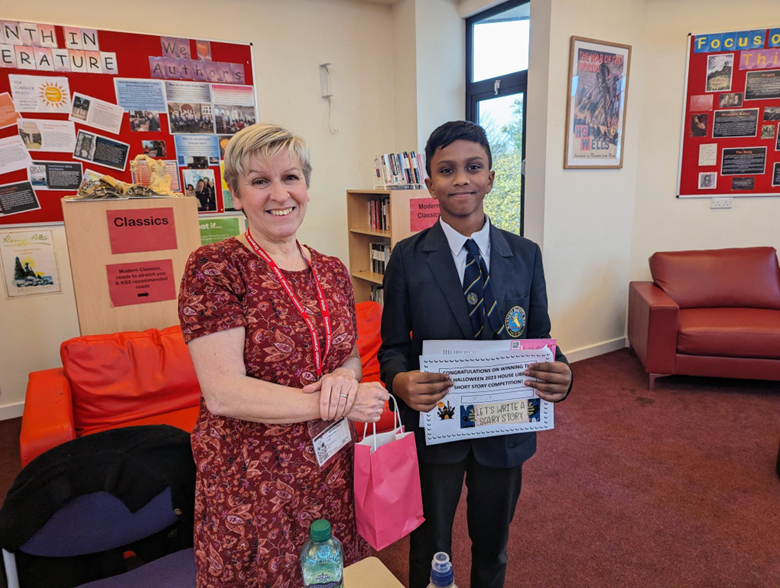 It was clear to see how much all the students valued Sue's feedback and advice, and here some share their thoughts on what it meant to them:
Grace Y7

I really enjoyed meeting Sue and the feedback that she gave me has encouraged me to develop my writing further. It was an amazing experience to talk with her, and it was great to hear that she enjoyed my story.

Abigail Y7

Sue's feedback was really useful, and it made me realise how well I can write stories, so I will use the advice throughout my life!

Lilly Y7

I found Sue's feedback really helpful, and it is definitely something that I will take on board when I am writing future stories.

Oliver Y7

Sue's feedback made me feel that my story was good and that it was appreciated. It also helped me to realise some things about my writing that I could work on to make it a bit better.
Really well done all, with thanks to the students for their amazing level of effort and participation, and huge, huge thanks to Sue for devoting her time to this brilliant and unique opportunity for our students to receive professional feedback from a published author.
And we will be publishing the winning entries in the next edition of school magazine Perspectives!