year 12 editorial electives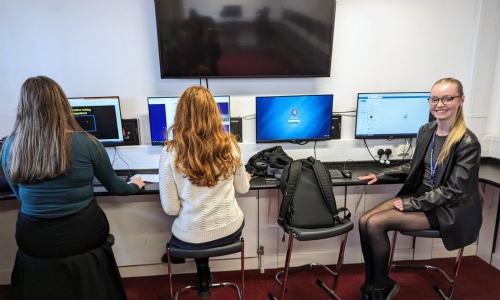 Year 12 hone their Editorial and Journalism skills as part of our Electives programme
The Wednesday afternoon Electives programme is a great opportunity for Year 12 to participate in options designed to develop their career, professional, academic, Sports, and extra-curricular skills.
Last week we reported on the Muay Thai Kick Boxing course available to Sixth-Formers, and this week we are pleased to focus on the Perspectives Magazine Editorial opportunity.
Pictured above is Year 12 Emilia (R) with just some of the group, working with the brand new InDesign software, which they are deploying to develop an enhanced interface and template for Perspectives magazine.
All students are welcome to join and contribute articles to Perspectives magazine, and the team meet and work after school on Tuesdays with English teacher and Literacy Co-ordinator Miss Hammond; however, the Year 12 programme is specifically designed to develop and progress students' editorial and publishing skills.
Year 12 Zainab is particularly enjoying the opportunity as she aspires to pursue a career in Journalism after taking her degree on completion of her A Level studies here, and undertaking this elective option is proving an invaluable experience, that will also greatly benefit her application to University.
And if you would like to read the latest edition of Perspectives, it can be found here:
UGS Perspectives – Welcome to Urmston Grammar School's student magazine! (wordpress.com)