sad goodbye after 2 decades of science at ugs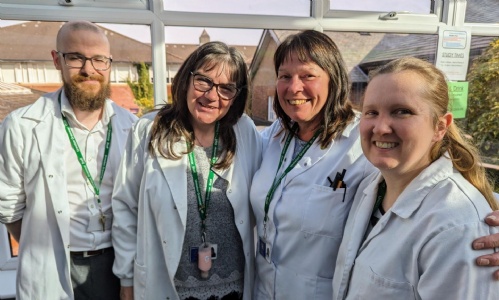 Fond farewell after 20 years to our amazing Chemistry technician Mrs Brock!
We have bid a sad goodbye to Chemistry technician Lynn Brock, pictured above on her last day 3rd from left, with colleagues Mr Sharp, Mrs Yarwood and Mrs Bentham.
A former student here herself, Lyn has worked at UGS for 20 years, and all three of her children are also alumni, with Lynn sharing that all loved the time that they spent here. In fact, one of Lynn's first plans for retirement is to visit her daughter, who is currently working in Japan.
Before joining UGS, Lynn was a team supervisor in the Quality Assurance Laboratory at what is now Cargill's, where she met her husband, who later in his career also began working as a school Science Technician.
Lynn has thoroughly enjoyed her career here at UGS, with some of her highlights having been the special Science events arranged for students, such as the Flash Bang Shows and Science Week,
She has also really enjoyed working with teaching staff on planning new experiments for students to compound their studies and the syllabus.
Lynn will greatly miss colleagues and the school community, and, of course, working with our fantastic students, but is looking forward to next steps, lots of travelling overseas, and enjoying more time touring in her caravan.
All in school will miss Lynn and her contributions to UGS Science immensely:
Mrs Wall:
From the moment I arrived at UGS (18 years ago!), I knew that the Science Technician team was remarkable and Lynn was an integral part of the Science Faculty. Lynn's proactive, enthusiastic approach made teaching Science lessons, and all the extracurricular enrichment activities, an absolute joy.
Lynn's role in delivering exciting practical work in lessons has been hugely important to the development of student understanding and engagement, and leaves behind a legacy of igniting a passion in so many young people over so many years.
We will miss you Lynn and all the Brocks – but you will always be part of our history – keep in touch!
Dr Richards (Head of Science)
Lynn has always worked above and beyond the requirements of her role as our Chemistry technician, from her support for recently appointed technicians, to her help with the Department`s wider STEM activities, even setting up our Christmas lunch and other social events, that play such an important part in making the science faculty a supportive and successful area in which to work.
Mr Parker (Head of Chemistry)
After more than two decades of dedicated service, we bid a fond farewell to our beloved Chemistry Technician, Lynn Brock. She has been an indispensable part of our school's Chemistry department, bringing her wealth of knowledge, unwavering support, and warm and nurturing personality to our students and staff. Often seen as the backbone of our department, she has helped everyone with their practical work, and ensured that experiments ran smoothly.
Her retirement leaves a void that will be hard to fill, but we are immensely grateful for her contributions, and wish her all happiness on this next adventure.
Thank you for 20 years, all at UGS will miss you, and we wish you a long, happy and fulfilled retirement!
And a warm welcome to our new technician Dr Bethell!