celebrating this week's house winners!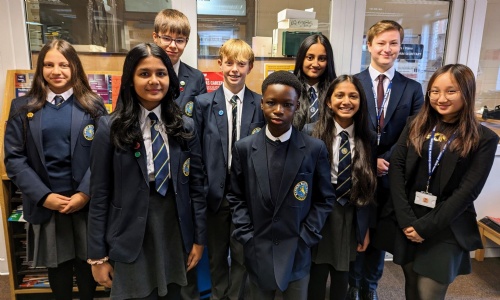 So proud of this week's House Achievers!
Pictured above L-R are some of our amazing students who were awarded the highest number of house-points in their year group over the last week:
Yara 7R, Ananya 8R, Ben 10T, Jonah 9U, David 7R, Krithi 9U, Lubaina 9M, and House Prefects Danny & Victoria, who awarded prizes. Also top house-point achievers but not pictured: Eden 10R, Adam 11U, Alice 11R, Millie 11R, Louis 12T, Arun 12T & Will 13T.
Please see the table below for some examples of the academic, community and enrichment attainments that the students have been awarded house-points for.
And a particular mention to Year 9, who collectively as a year group were awarded a phenomenal amount of house-points over the last week!
Well done all, keep up the great work, and we look forward to celebrating your weekly achievements when we return after the Half-Term break!