Fun Fun Fun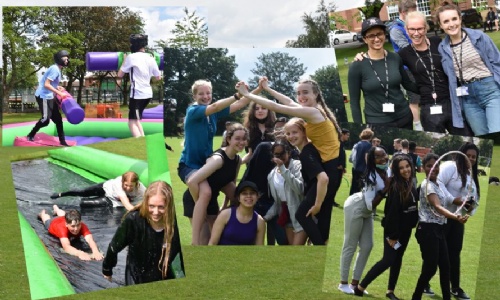 10FEST: Post Exam Funday for Year 10
This Lockdown year, true to its nomenclature, has had numerous downs and relatively few ups. Typically, year ten, at this time of year - post-exams - would be treated to a day out at Alton Towers. But not having a totally clear idea of exactly when Lockdown restrictions would be lifted, such a trip was not a realistic proposition this year. So, to brighten up what has been a rather drab year in many respects, instead of going out of school to seek out some fun, we brought the fun into school.
On Thursday 8th July, year 10 were off-timetable for the afternoon, enjoying some sun and lots of water on the school field. The students took part in timed laps around an assault course, which finished with a 15 metre slip 'n' slide, complete with washing up liquid, slime and lots of water. Year 10 were also able to enjoy inflatable human 'Hungry Hippos', as well as sumo wrestling and a Gladiators-esque duel. Lunch was provided courtesy of a barbecue, ably grilled by Dr McPartland, Miss Smith and Miss James.
And, as can be seen, much fun was had by all, some staff members included too!