proud to introduce our new pse ambassadors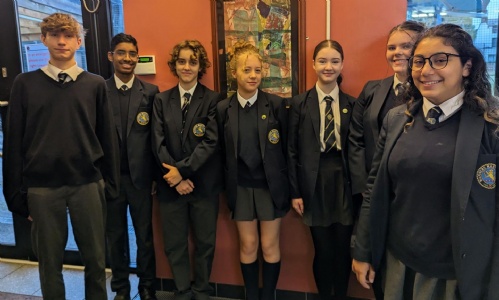 Launch of exciting new opportunity for our Year 10 students & more in school this week
We are excited today to celebrate the appointment of the Year 10 students who successfully applied to take up the position of PSE Ambassadors and are pictured above L-R:
Will, Chris, Mia, Neve, Evie, Evangeline and Ritta (also Eliza, not pictured)
This is a brand new initiative for UGS, led by Head of Student Development Miss Murray, and is an amazing opportunity for our Year 10 students. The objective of this exciting provision is to equip our student ambassadors with the knowledge and skills to deliver PSHE lessons to Key Stage 3, that will not only build their student leadership, teamwork and public speaking skills, but equip them with invaluable experience of teaching, and enable them to act as a role model for younger students. It will also develop relationships across the whole school community, and compounds our school ethos of Pride, Participation and Empathy.
Well done all, and we look forward to following your progress and hearing about the great work that you will be doing!
Also in school this week:
UGS supports Dyslexia Awareness Week (please see separate article)
UGS supports World Mental Health Day and #Take 10 to Read (please see separate article)
End of Half-Term House Celebration Assembly
Year 13 Parent's Evening
Year 13 Mentoring Day
Year 12 Breakfast Quiz
Presentation to Year 11 from our Leadership Team on UGS Sixth Form and KS5 options and provision
And finally .... tonight the Show Must Go On as we are thrilled to host the Trafford leg of the Don't Stop Queen Now tour as a Fund-Raising Event - watch this space for news!