Year 11 world of work day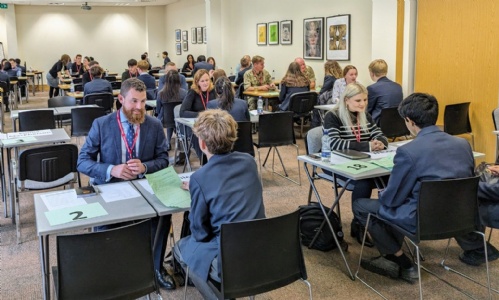 `Brilliant Event`: Full day programme of Careers activities for Year 11
In a great opportunity organised by our Careers department, Year 11 have today been involved in a day of rotating workshops designed to develop their career planning and options, and to give them an invaluable insight into a wide variety of fields, and professional and academic paths.
The 5 workshops comprised:
Careers Speed Networking: an amazing opportunity for Year 11 to engage with visiting speakers who work in a wide range of areas including: Social Work, Biochemistry, Law, Recruitment, Finance, Science/Engineering, Marketing, Civil Engineering, Rail, Architecture, The Army, and the Environment; and to ask them questions about their field of employment and careers.
Key employability skills and the interview process
CV Planning
Why Higher Education?
Introduction to Apprenticeships
Visiting representatives were impressed with our Year 11 students and their eagerness to engage and learn about their areas of work and the career paths that they had followed.
Emma MacPherson from Network Rail has supported our Careers events for a number of years, and is always impressed with how interested, engaged, enthusiastic and friendly our students are.
Anne Hollis (Social Work), Claire Palmer (Marketing), Jack Buckley (Environmental/Sustainability) and James Roe (Engineering and Solutions), all agreed that the Year 11s were really proactive, prepared and equipped with a range of interesting questions, and inquisitive even when discussing a career that they may not have previously thought about pursuing; and that our students demonstrated a great deal of independent thought about their next steps.
Brooke Lancaster (from Jacob's Solutions) was not only impressed by Year 11 and their intelligent appraisal of how career paths and options can be fluid and adaptable, but shared that meeting the students and participating in the event had given her the opportunity to reflect on her own journey, having initially followed a route into Ecology before pursuing Accountancy and Economics.
Our visitors were also really impressed with what they described as the `brilliant` format of the speed-networking event, designed and organised by our Head of Careers Mrs Kinder; and how, in comparison to formal presentations on Careers, it enabled students to more actively participate and engage with representatives from the world of work.
It was great to see Year 11 so engaged with the sessions, and with the multitude of advice, guidance and ideas for moving forward.
An inspired and inspirational day for all, with huge thanks to the visiting speakers who gave their time to support Year 11, to the Careers department for organising this enriching day, and to all the staff who supported our students in their workshops.