supporting World mental health day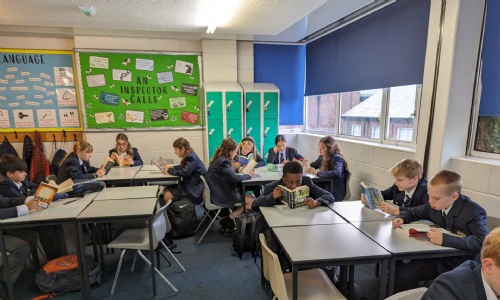 UGS proud to support World Mental Health Day and #Take10 to Read
Today is World Mental Health Day, and to recognise and celebrate it, we have involved our students in initiatives to raise awareness around the theme for this year: 'Mental Health is a universal human right'.
Students and staff are joining together to consider and to reflect on their own mental well-being and that of others, both today and moving forward, and are participating in discussing the benefits of performing a small act of kindness within school, family and the wider community.
We are also pleased to involve our students in the National Literacy Trust campaign #Take 10 to Read on World Mental Health Day.
Our ongoing Literacy Strategy already sees students participating in Literacy sessions during Form time, and today in the morning session it was our pleasure to promote the well-being benefits of taking 10 minutes for yourself to read.
As a whole school community, we are proud to support the ethos behind the campaign from the National Literacy Trust, in unison with World Mental Health Day:
Life is busy and it isn't always easy to find time for yourself. Reading can help you relax, boost your mood and escape elsewhere – and it doesn't have to be a book. It could be the post-match analysis of Saturday's football game, an interview with your favourite actor, DIY hacks or even recipes. Reading something that interests you can transport you away from day-to-day life.

Escape into a book and #Take10ToRead
And in the lead picture and below, with Literacy Co-ordinator and 7M Form Tutor Miss Hammond, are just some of our Year 7 students participating in the initiative: