proud to support dyslexia awareness week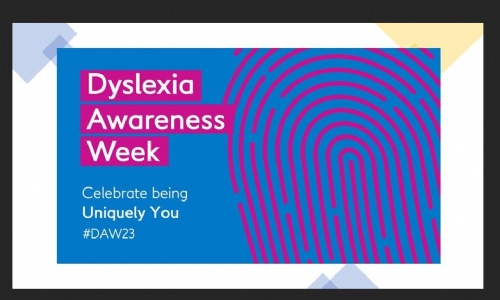 UGS comes together to celebrate Dyslexia Awareness Week
We are proud to announce that Urmston Grammar is supporting Dyslexia Awareness Week this October with an initiative designed to celebrate the unique strengths and talents of individuals with dyslexia.
In order to raise awareness, Mr Panter and our Learning Support department have created a series of activities for students to participate in, including adding a House challenge sheet for students to complete on Show My Homework.
Some of the activities our students will be participating in include:
Dyslexic Decoder
Are you up for a challenge? Test your decoding skills with our Dyslexic Decoder task. Decrypt a special message to uncover the word that symbolises the determination and resilience of individuals with dyslexia.
Dyslexia Riddle Hunt
Prepare for an exciting adventure as you embark on our Dyslexia Riddle Hunt! Follow a series of riddles that will lead you to various locations around the school.
Word Scramble
Put your word skills to the test with our Word Scramble activity. Unscramble dyslexia-related words to reveal a powerful message about overcoming challenges.
Form Time Quiz on Dyslexia
Here's an excellent opportunity to assess your knowledge and gain deeper insights into dyslexia. Get ready to answer questions and discover fascinating facts about this condition.
This is an enriching and worthwhile opportunity for UGS students and staff to come together to celebrate Dyslexia Awareness Week, and to promote understanding and empathy.
#DyslexiaAwarenessMonth #InclusivityMatters