launch of house mixer events & more this week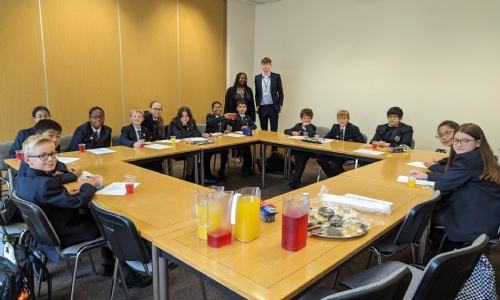 Exciting new opportunity for students & more in another busy week
House Mixer Events
It was fabulous for our Year 7 and 8 students to enjoy the launch of House Mixer events at break this week, starting with Bradfield yesterday and Mersey today (pictured). Park, Orme and Oak will enjoy theirs next week.
It is an excellent opportunity for students from different forms and year groups to meet with others from their houses, and with their 6th Form House Prefects, to get to know each other, have fun with quizzes, enjoy some refreshments, and plan for forthcoming events, initiatives and challenges; and, of course, for how they can propel their Houses to the top of the Leader-board!
House-points are awarded to students for a variety of achievements including outstanding work, focus, effort, contributing to the school and wider community, and fulfilling the core UGS values of Pride, Participation and Empathy.
It makes us proud to see our students embracing these opportunities while working hard and having fun.
With thanks to the House Leaders and Prefects for organising the events.
Watch this space for updates on our weekly House Champions!
Also in school this week:
Monday: Up Learn session delivered to Sixth Form
Tuesday: Year 7 enjoyed the House Library Roald Dahl Day Quiz and Year 13 returned from their Biology field trip (please see separate articles)
Wednesday: we hosted the KS3 Information Evening for Parents and Carers, and it was wonderful to hear how our new students are happily settling into life at UGS
Thursday: we hosted the launch of our new Community Super-Curricular Lecture programme (please see separate article)
Friday: we welcomed Kooth into school to deliver a presentation and information session to our students on the Mental Health support available for all to access
And, of course, we closed the week with our new House Mixer events!
New Extra-curricular timetable
Finally, we are thrilled that our new extracurricular timetable is now available, with so many opportunities across the Departments for our students to participate in, including: Performing Arts, Music, Sport, Science, Computing, Chess, Scholar's, Literature, Perspectives school magazine, Pride, Languages, Magic, and a multitude of subject-specific support sessions, and Careers and supervised homework/study sessions.
Please see the link below for full details:
Urmston Grammar School - Extra Curricular