checkmate: new season for ug chess club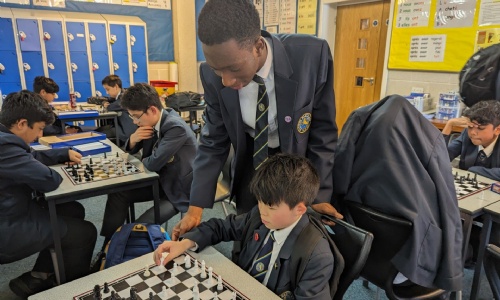 Relaunch of Chess Club, Year 12 Information Evening & more this week!
The hugely popular UG Chess Club started its new season this week: last night saw Team A compete in their first match of the season in the online Chess League, and today at lunchtime Chess Club relaunched, welcoming brand new and existing student members.
Led by Mrs Chadwick, Chess Club is a welcoming space for students from all year groups and of all chess levels; and more established and seasoned players, like Team Captain David (pictured) are there to help and support those who are novices.
As David explains, the Club caters for all chess abilities, and is a great space and forum in which to meet and make friends, participate in the school community and enrichment, and to develop skills in the sport in a relaxed environment.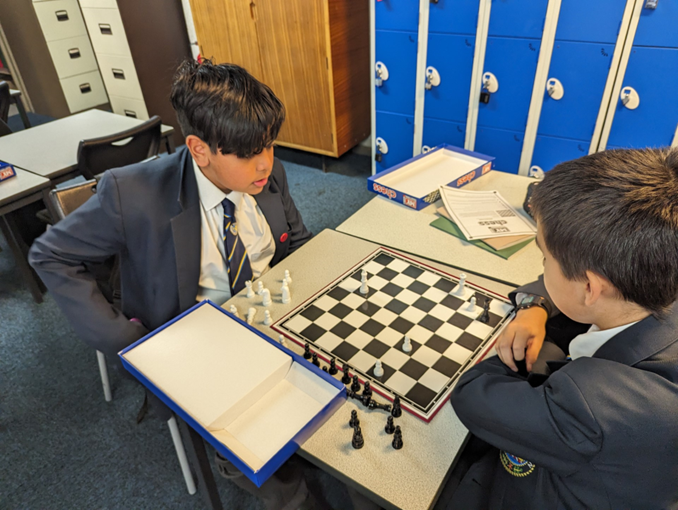 The Club teams enjoyed impressive competitive success last year and are hoping to replicate this in the new season, where they will be competing against leading school chess clubs from across the UK, including Eton.
And on 3rd November UG will be hosting the Qualifying round of the English School Chess Championship. Watch this space for more news about this!
Year 12 Information Evening
On Wednesday evening the Sixth Form Team hosted an Information Evening for Year 12 parents and carers. This provided a comprehensive introduction to the provision and programme of study and enrichment for Year 12 at UGS, including:
A guide to subject timetabling, independent learning and the Up Learn platform
Expectations
Creating and supporting ambition
Our provision of the Extended Project Qualification
Information on the Electives that take place on Wednesday afternoons: these provide invaluable opportunities for students to apply for, and participate in, courses including Peer Mentoring, First Aid, Criminology, the School Magazine Editorial Team, Italian lessons, Primary School Work experience, Electronics, Architectural drawing, and a variety of Sports from Football to Muay Thai Kick Boxing
The PHSE curriculum
SEND, and how we support the wellbeing of our students
Also this week in school: students have been invited to apply for positions on the School Council, a vital resource for maintaining the student voice within the school community and the school ethos, and for facilitating the development of the students who are appointed to represent their peers. We look forward to sharing news about our new team of School Councillors!
And on Sunday Year 13 Biologists will set off for the Yorkshire Wolds for a residential trip to enrich and further their A Level course. We look forward to hearing about this next week.
We are putting the finishing touches to our brand new Extra-Curricular timetable, details of the full range of activities and enrichment opportunities available to our students will be posted next week!