`don't stop queen now` - still chance to grab a seat!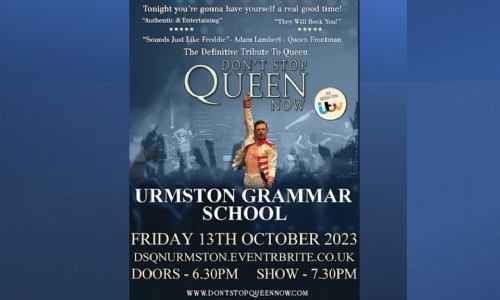 Tickets still available for fund-raising concert `Don't Stop Queen Now`!
There's going to be a kind of magic at UGS on Friday 13th October that you won't want to miss when it is our absolute pleasure to host the fundraising concert `Don't Stop Queen Now', and there are limited tickets still available, so snap them up now!
If you haven't heard `Don't Stop Queen Now` are taking a detour to Trafford from their UK 02 academies tour to play at UGS , and the concert is to raise money to fund a once in a lifetime opportunity for members of 3rd Davyhulme Scout band to play in the main parade at Disneyland Paris. This includes some of our own UGS students, William, Lara and Harris.
There will be a bar and refreshments available on the evening that will be run by the school PTA, and all funds raised will support enrichment activities in school.
Tickets are selling fast – but there some are still available at:
DSQNURMSTON.EVENTBRITE.CO.UK
Hope to see you there!