busy start to the new term
New Term launches with scorchingly busy first week!
The blistering heat didn't stand in the way of a busy start to term. We were thrilled to welcome our new Year 7s and Year 12s on Wednesday, and of course all of our other students who were returning refreshed from their summer break.
Our programme of events, trips and extra-curricular and enrichment opportunities has already kicked in:
New Beginnings House Reading Challenge: in the lead picture are just some of the students who are already making a start on this term's Library House Reading Challenge - New Beginnings - to explore authors, genres and titles that they have not read before. Who will be crowned the House Reading Champions? Watch this space!
Performing Arts: rehearsals for the 2024 production of Guys and Dolls are already taking place, and also in the Performing Arts department the following clubs are re-launching for 2023/24: Theatre Technicians, Band, Junior Choir, Senior & Staff Choir, Dance, Drama & Production Singing Club, and the ACORN Theatre Co.
Sport: students will be able to enjoy the provision of lunchtime and after school clubs in Netball, Table Tennis, Volleyball, Football, Cricket, Badminton, and Gymnastics, and we look forward to hearing about the progress of our Sports Teams in regional and national competitions after their multiple successes last year!
English: for KS4 & 5 Mr Connell is launching the World Literature Club, that will begin with the group reading of the epic One Hundred Years of Solitude by Gabriel Garcia Marquez. Scholar's Society will also relaunch soon.
And today Year 11 are heading out on their first trip of the year with a visit to see a production of Macbeth at the Shakespeare North Playhouse in Prescot, that will compound and enrich their GCSE study of the play.
PSE: a brand new initiative and opportunity has opened up for our Year 10s with the launch of applications for the role of PSE Ambassador. The objective of this exciting venture is to equip our student ambassadors with the knowledge and skills to deliver PSHE lessons to Key Stage 3, that will not only build their student leadership, teamwork and public speaking skills, but equip them with invaluable experience of teaching, and enable them to act as a role model for younger students. It will also develop relationships across the whole school community.
House system: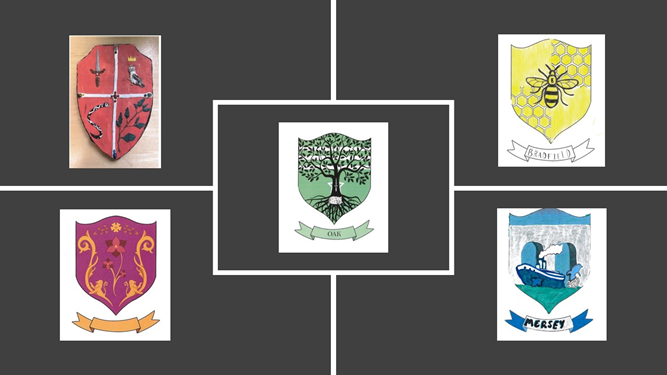 Existing and new students today received their house badges and all the information that they need to prepare for the forthcoming exciting programme of events, including a new venture for this year - House Mixer Events!
Chess Club: the ever-popular and competitively successful UGS Chess Club resumes next week, new members most welcome!
We look forward to hearing more about the participation of our students in all of these opportunities, and in the great many more things to come!