Ugs welcome new Year 12 & year 7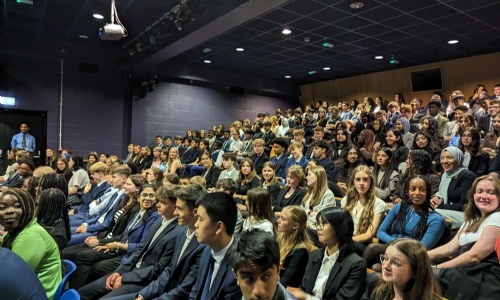 Our new Year 12s and 7s enjoy a full programme of events to welcome them into UGS!
Year 12
We are thrilled that so many students from schools across Trafford, Greater Manchester and the North West have selected to study for A Levels in our Sixth Form, including of course those from UGS who have chosen to stay with us.
Today the Sixth Form Team organised a full programme of events to introduce students into Year 12, starting with a welcome assembly incorporating talks from the SFT, the Leadership Team, associate tutors and support staff, and our Senior Prefects.
`The Best View comes after the Hardest Climb`
Head of Year 12 Mr Neale introduced the Assembly with this thought-provoking quote on the challenges and rewards of a committed and enriching programme of study, and all the speakers provided an invaluable introduction to all aspects of life and study in UGS Sixth Form. This incorporated effective strategies for learning, time management and well-being, crucial information on the enrichment and academic opportunities available to our students, and on all aspects of support and help available and how to access it, finishing with recognition of the inspirational success and achievements of all the students who have recently completed their A Level studies with us.
Year 12 then enjoyed induction sessions with their new form tutors and peers, tours of the school from our current Year 13s, and an introduction to our provision of the EPQ (Extended Project Qualification) and all that it involves. We are proud to offer this opportunity to our students as the EPQ is an invaluable A-level standard standalone qualification that is recognised by Universities and employers and is worth 28 UCAS points on University applications. Additionally, many universities make lower A-level offers to students undertaking an EPQ, which reflects the core research, analytical, written and presentation skills that it facilitates the development of.
Finally, the day rounded off with the much-enjoyed `Donut Social`, a chance for all the students to wind down by relaxing with students and staff from across the year group, and of course to savour the plentiful supply of a popular branded baked treat!
Year 7
It was fantastic to see our new Year 7s enjoying their inaugural day here at UGS, and getting to know each other, staff, their Year 13 Form prefects, and students from across the school community who were there to guide and support them throughout the day and moving forward.
Many Year 7s took full advantage of our facilities during their very first UGS lunchbreak, some taking the opportunity to enjoy the sunshine on our Front field, and many choosing to browse and borrow books from our Library and make a start on the new term House Reading Challenge! After lunch and a busy morning of introductions to our school routines, timetables, programme of events, and tours of the school, it was time for Year 7 to participate in their very first lesson.
The many smiling faces at the end of the day signalled that it had been an enjoyable success and we look forward to welcoming everyone back tomorrow!