HOUSE ACHIEVEMENTS & LOOKING FORWARD TO THE NEW TERM!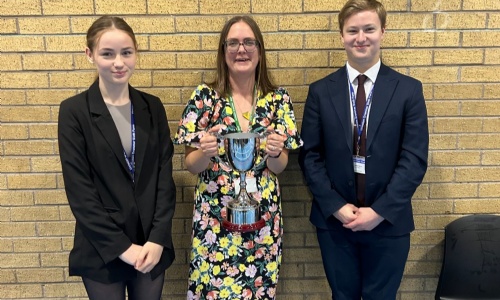 UGS celebrates House successes for 2022-23 & our new House prefects for the new Term
After a fantastic 2022/3 for all our Houses, we can't wait to welcome in the new academic year with our new students and newly appointed House prefects! Pictured are Bradfield's Danny and Maddie of Year 13, with Bradfield House Leader Mrs Chadwick.
All House prefects and leaders are looking forward both to meeting our new intake of Year 7 and Year 12 students, who will this week get to know which houses they are in and receive their house badges, and to launching an exciting new programme of events, challenges, and competitions, that will as ever enable all our students to participate in enrichment and charitable initiatives through collaboration across the year groups and with staff, embracing the whole school and local community.
As the summer term ended we celebrated the success with a special Assembly, recognising the many House achievements: Bradfield won the 2022-23 House Cup with a grand total of 6507 house points, followed by Park, Oak, Orme, and finally Mersey.
Special recognition was also awarded to the individual leading point scorers in each House, starting with Year 7 Goree of Oak, who in a fantastic achievement collected the most house points in the school!
And Student Achievers were celebrated, receiving recognition from their teachers for effort and attainment in various subject areas, for which they were awarded bonus house points. Some examples are Year 10 Alekhya "for always attempting challenge questions" in Maths, and Year 12 Ollie for "amazing knowledge and understanding throughout the Business Studies course".
Extracurricular excellence was also celebrated, highlighting the successes that students have enjoyed whilst participating in our rich extracurricular programme, including Year 7 Daniel "for commitment to Chess club and the online chess team", and Year 9 Aizah "for commitment to writing for the school news website."
Finally the New House Prefects for 2023-24 were announced: Bradfield: Danny, Maddie and Yousaf; Mersey: Cheluchi and Sonny; Orme: Jamie, Finn and Anjali; Oak: Victoria and Holly; and Park: Maria, Victoria and Louis.
All our newly appointed prefects are already working on plans for the programme for the forthcoming term and year with the House leaders, it's bound to be epic so watch this space!!!