year 12 annabel's swimming success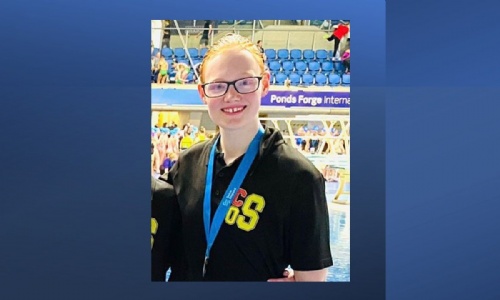 Year 12 Annabel's Synchronised Swimming Team's Success at Swim England Combo Cup!
Annabel is an accomplished Synchronised swimmer and regularly competes with her Salford Team at tournaments and events.
This weekend the team enjoyed outstanding success at the Swim England Artistic Swimming Combo Cup held at Pond's Forge International Sport's Centre in Sheffield. The free combo is a unique event in that it is comprised of only free combination performances, specialising in routines set to high tempo music that can see up to 10 swimmers moving in unison.
Athletes from clubs across the UK attended to compete, with medals awarded for each division competition, with scores finally totalled out across all division competitions for the Combo Cup.
Annabel's 13-18 Division performed a high-energy Madness routine and in an amazing achievement won Silver (only narrowly missing out on Gold!). The other Salford divisions also secured amazing results including Gold, meaning that in the final reckoning Salford finished 4th overall in the UK Combo Cup!
Well Done all!