Interview with Max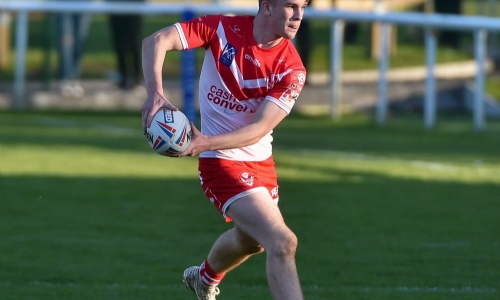 Urmston Grammar Student tells us more about his experiences with St. Helens Rugby League Club
Max has been interested in rugby since his father took him to a club match when Max was just 5 years old. When asked why he was pursuing an interest in League rather than Union, Max replied that he had tried Union when he was younger, but he simply prefers playing Rugby League. Max is naturally proud to have captained the Saints' Under-16 Academy team to a 30-0 victory over rivals Warrington. However, it was in Warrington that Max was initially spotted by St Helens scouts as he was playing for his local team.
So now, in addition to playing regularly for the St. Helens academy team, he is also attending training sessions three times a week with a desire and commitment to maintain the team's winning form. Obviously, during Lockdown, training has been limited, Max having to go through a specially devised fitness programme at home, as well as attending sessions remotely on Zoom.
Max seems to take captaining the team in his stride, claiming that "it makes no difference really" to his attitude, commitment and performance in games. And he's keeping his feet on the ground where his future is concerned. While a place in St. Helens first team squad would be a fabulous achievement, Max is happy to takes things one step at a time for now. When asked about his ambitions, he stated: "I'm just hoping to get an academy contract which will take me to 18 years, and I'll take it from there."