busy term draws to a close ... busily!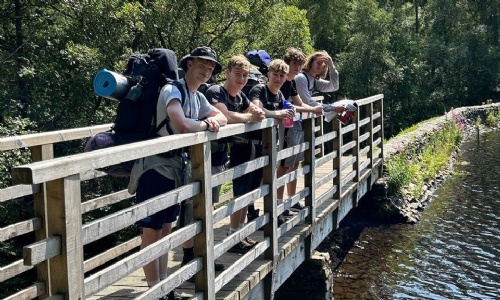 D of E, Primary Transition Event, Art & Design Exhibition, Sixth Form Provision & Celebrations, Prom & More!
As another term and year draws to a close the pace, as ever at UGS, shows no sign of slowing.
Silver D of E Award
In our lead picture are some of our Year 12 D of E Silver award students out on their final expedition in Cumbria. There are 45 students taking part and Mrs Chadwick, one of the staff members accompanying the group, reports: "Yesterday we had a glorious day walking from Haverthwaite to Grizedale Forest. The weather is less favourable today, but everyone is in good spirits, and we will be en route to Great Langdale tonight, then onwards to Ambleside tomorrow". Let's hope the weather is kind and we wish them the best of luck for the remainder of their expedition!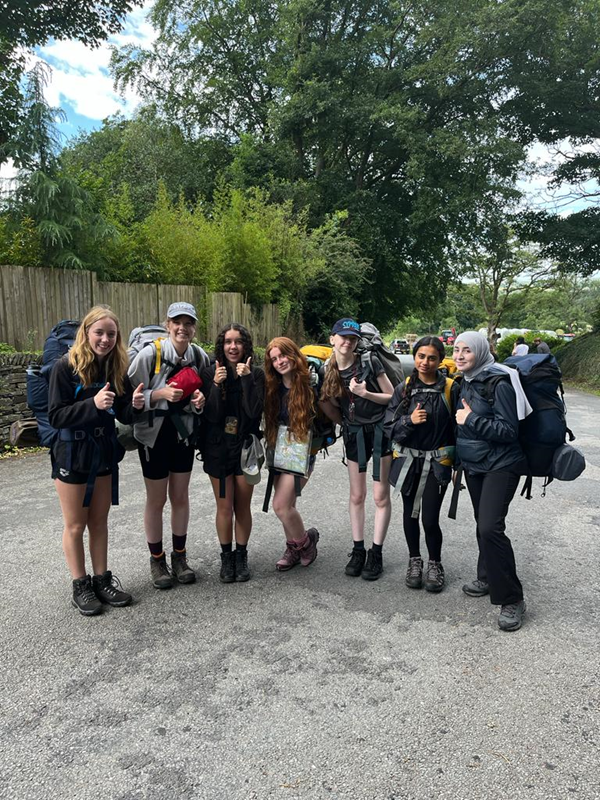 Primary Transition Day & Out-Reach Work at UGS
On Wednesday, as part of our ongoing out-reach work with Primary schools, we were delighted to host a Primary Maths/Science Transition event where we welcomed 70 students from local primary schools for an enriching and fun day of Maths activities and Science experiments, designed to give Primary students a taste of these core subjects at the next level, and a high school experience.
Working with our Science department, the students undertook a Mission to Mars project, where they designed and made Mars landers to launch. They then conducted food tests, testing for sugars, starch, fat and protein.
Art & Design Exhibition
On Thursday there was a fabulous exhibition of all the amazing work undertaken by our GCSE & A Level Art, Photography and Design Technology students.
It was an opportunity for the students to celebrate and showcase the work that they have produced over the last 2 years with their parents and carers, staff and the whole school community. Well Done all!
Sixth Form
On Monday Year 12 welcomed visiting representatives from Project Trust, who gave an instructive presentation on the option of deferring University for 12 months and taking a Gap Year overseas, just one of the many options available for our Sixth Form students to consider when planning their academic and career pathways. Project Trust is a charity that has decades of experience of providing international volunteering opportunities for young people, that enables them, pre-University, to explore and develop their own potential, learn from another culture and contribute to an international community.
On Tuesday a University application UCAS Personal Statement workshop was held for Year 12, where students received invaluable guidance and support on the writing of personal statements from Literacy Co-ordinator Miss Hammond, the Sixth Form team, and teaching staff who specialise in the subjects relevant to the students' applications.
On Wednesday our new Senior Prefect Team organised an afternoon of celebration for Year 12, including a fun mini sports day and refreshments, a lovely opportunity for the group to get together to celebrate the end of the year after all their hard work and to enjoy some community R & R before the summer and the hard work resumes in September, when they return as Year 13!
On Thursday the Sixth Form team welcomed back the 2022 A Level cohort to UGS by hosting a Celebration Event, where achievements were celebrated, and our Year 14 students were able to meet up and share their progress, updates and news with each other and with staff.
Tonight, in a culmination of all their hard work, it is Prom for the current Year 13, to be held at the mighty Etihad Stadium, an amazing opportunity to celebrate their time at UGS with peers and staff, and to wish each other well before embarking on the next stage in their lives.
Next week obviously sees the final few days of term, and there is still the Year 12 Achievement Event and the House Celebrations and Sports Day results to look forward to!