ugs students in matilda the musical jr!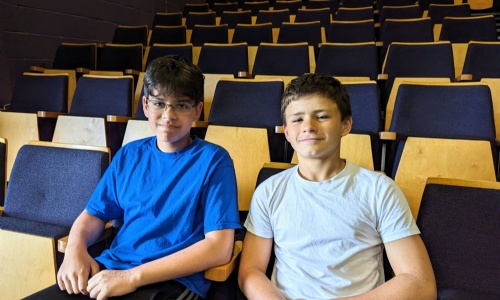 Year 7s Adam and Daniel are some of the stars of this exciting Urmston Musical Theatre show!
While this week we are enjoying our very own Performing Arts week here at UGS with not one but three performances showcasing the theatrical, dance and musical talents of our students from across the year groups (report to follow!), it is also now only 2 weeks to go until the Urmston Musical Theatre production of Matilda the Musical Jr, that will not only take place here on site but will be starring 2 of our talented Year 7s, amongst other local young students.
Pictured in our Theatre are Y7s Adam and Daniel, who play the Escapologist and Nigel respectively in Matilda. Both say they are thoroughly enjoying the experience, particularly the opportunity to develop their acting skills and to meet new people. In the show Adam's personal highlight is one of the earlier ensemble numbers `School Song`, and Daniel's is the song and dance arising from the infamous Bruce and the chocolate cake scene!
Both students are also currently involved in UGS's own `Play in a Day`, that will be performed here this evening, and they have also won parts in next year's whole school production of Guys and Dolls! With thanks to them for taking time out from their rehearsal schedule to talk to us about their performance work!
If you would like to catch the Matilda the Musical then tickets are still available to buy from www.umt.org.uk (Saturday 4pm has sold out).
It promises to be fabulous!