idl success at ugs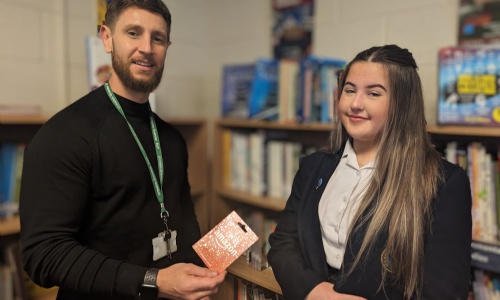 Year 9 Isabella receives award for IDL engagement and achievement
Pictured is Isabella receiving her award from Mr Panter, in recognition of her IDL engagement over the year. Well Done Isabella!
Here Mr Panter tells us about IDL and its provision at UGS:
IDL Literacy Intervention is an advanced computer-based system that can supplement and enhance students' academic abilities. IDL includes components to improve spelling, handwriting, vocabulary, and comprehension skills. With IDL Literacy, students can experience a significant boost in their literacy development. For example, after just 26 hours of use, learners can expect to increase their reading and spelling ages by an average of 11 months, ultimately improving their overall academic performance.
Our success at Urmston Grammar:
Reading and spelling age increases from 6 months to 2 years and 2 months this academic year.
Benefits of working to improve your reading and spelling ages:
Improved comprehension: by improving your reading ability, you may be better able to understand and analyse complex texts. This can be especially beneficial when it comes to studying for exams or engaging in critical thinking.
Expanded vocabulary: as you read more, you may encounter a wider range of words and phrases. This can help to expand your vocabulary and make you a more effective communicator.
Enhanced writing skills: good spelling and grammar are essential components of effective writing. By improving your spelling age, you may be better equipped to express your ideas in writing.
Increased confidence: as you improve your reading and spelling abilities, you may feel more confident in your academic pursuits. This can lead to greater success in the classroom and beyond.
Greater career opportunities: strong reading and spelling skills are often valued by employers. By improving in these areas, you may be better prepared for a wide range of career paths.
Improved memory: reading and spelling can help to improve your memory and cognitive function, which can benefit you in a variety of areas.
More enjoyable leisure time: reading can be a source of pleasure and relaxation, and improving your reading ability can allow you to enjoy a wider range of books and literature.