sixth form taster day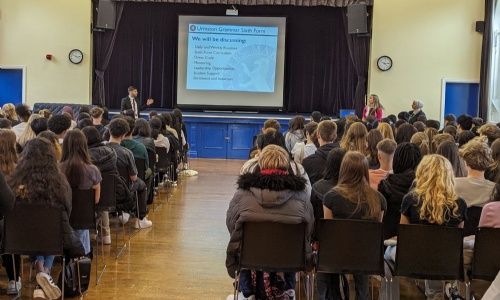 Prospective students enjoy a sample day of life in our Sixth Form!
On Tuesday UGS was thrilled to welcome the students who have provisional offers to join our Sixth Form in September, not only those who have just completed Year 11 here, but also the many students from schools across Greater Manchester and the North West who want to join UGS for the next stage of their academic journey at A Level.
Pictured is the introductory welcome in the Main Hall from the Sixth Form Leadership Team, where students were guided through enrolment and induction information.
Our prospective Sixth Formers then participated in a range of sessions throughout the day in the subjects that they would like to study for A Level. The sessions are designed to be insightful and enriching, and to give students the chance to experience an overview of the chosen subject and the requirements of the course. It's also a great opportunity to meet the subject leaders and their future peers.
Students were also able to get to know each other and staff over an informal refreshment break, and the day ended with a Q&A session with the Sixth Form Team and the opportunity to find out any further information needed.
A useful, informative day for all, and the first of many experiences of our UGS Sixth Form community, and we look forward to welcoming the new intake in September!