oxford university German olympiad prize for year 12 abi!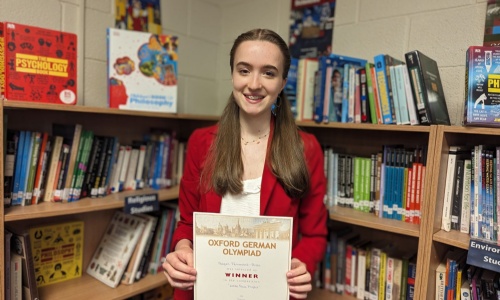 Abi tells us about her prestigious award-winning achievement at Oxford!
Earlier this year, my A Level German teacher, Mrs Rogers, mentioned in one of our lessons that in previous years her students had enjoyed participating in the Oxford German Network's "Oxford German Olympiad". German is my favourite subject and I hope to study it at University, so while later researching the different categories of the competition, I stumbled upon the White Rose Project's "Die Weiße Rose" creative translation competition.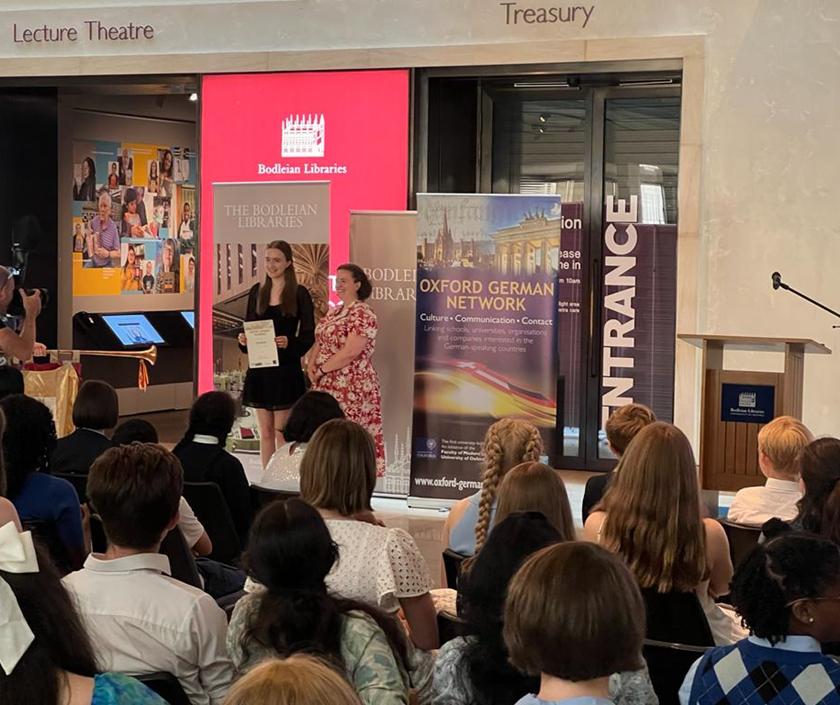 The White Rose Resistance movement were a group of students in Munich who, in 1942, began writing, printing and mass-distributing anti-Nazi leaflets, calling for an uprising against tyranny and oppression. They made reference to Biblical wisdom and to great German writers such as Goethe, emphasising with power and persuasion how vital it was for the German people to resist the Nazi regime. Tragically, the leading members of the resistance were executed, and the White Rose Project hopes to honour the memory of these brave individuals and keep their story alive.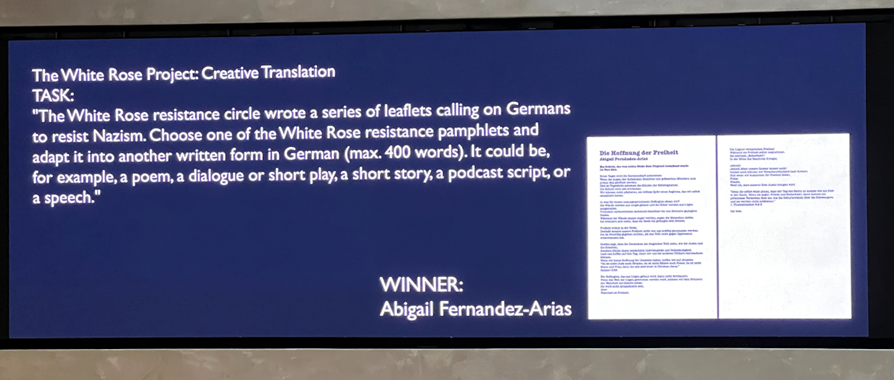 After reading the first White Rose leaflet, I was inspired by the power of their language, and felt compelled to enter the competition. The task was to rewrite one of the leaflets in a creative form in German, and so I opted to write a poem based on the first pamphlet. It was a new experience for me, as I'd never written poetry in German before, but I found the exercise very rewarding and enjoyable, as it was satisfying to be able to apply my language skills to produce something creative. I decided to make the alluded Biblical references from the leaflet explicit in my poem, as the Christian faith of the leading members of the resistance was a very big driving factor in their opposition to the tyranny.
Having really enjoyed the task, I didn't think much of it once I'd sent off my entry, but to my great surprise and excitement, about a month ago I received an email informing me that I had won the competition and inviting me to the prize-giving ceremony at the Bodleian Library in Oxford. This was a total shock to me, but I was over the moon and all of my friends and teachers were really encouraging and supportive.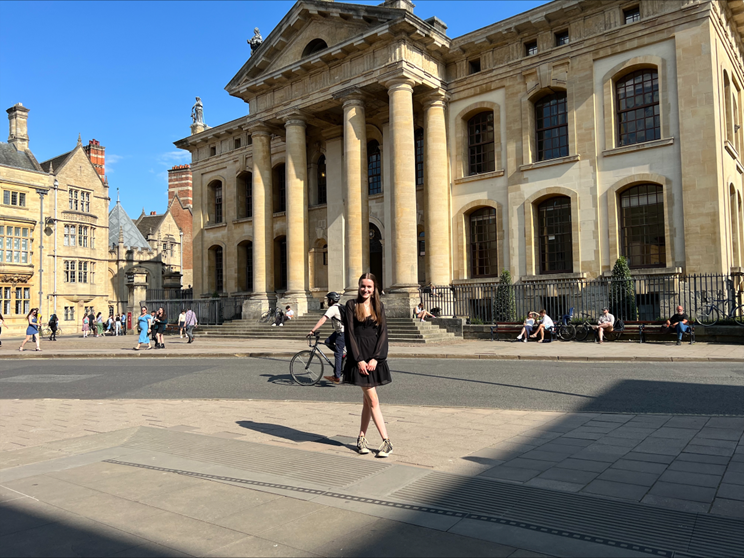 On 22nd June I went down to Oxford for the prize-giving, which was a very exciting experience. My certificate was presented by Dr Alexandra Lloyd, the author of Defying Hitler: The White Rose Pamphlets, a book which was given to me as a part of the prize. It was amazing to be able to briefly speak to her about the White Rose, and also to hear from various academics in German studies at Oxford University.
This whole experience has been a series of unexpected opportunities, but it has been a lot of fun and has given me more confidence as I apply to study German and Linguistics at University, hopefully at Oxford itself. I wouldn't have had such a fantastic opportunity if it weren't for the support of my German teachers - the MFL department at Urmston Grammar are truly wonderful - and I can't recommend studying A Level languages here enough!
Report by Abi 12T