year 7 inspired to aim high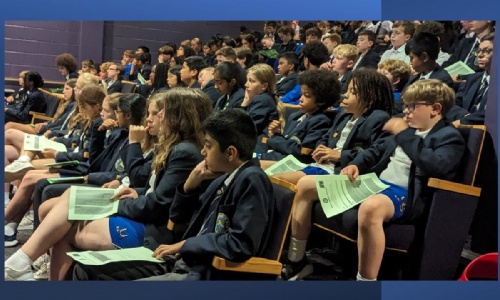 Year 7 welcome visiting speakers and former student as part of Careers & PSE Provision
The theme of PSE for this Half-Term is Careers, and today, as a vital part of the provision, our Careers department organised a visiting employer talk for Year 7 from representatives from Wain Estates, who are currently responsible for the massive long-term project of regenerating Carrington Estate.
Manager Director of Development Jack (pictured left) is a former UGS student, and was accompanied by Estates Project Manager Will, and they spoke to Year 7 in detail not only about the many different facets and professions involved in the 20 year Carrington project, transforming the former huge Shell petrochemical processing plant into a 3 village 5000 home space with 4 million square feet of employment space, but their career pathways through education, University and employment to their current professional positions.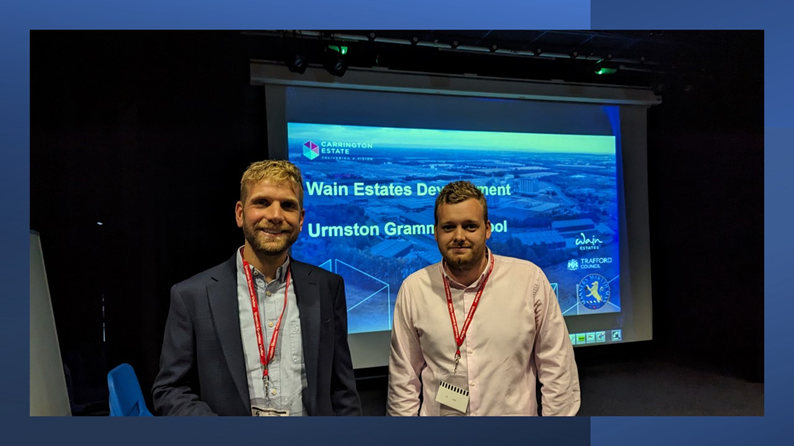 Year 7 were interested to learn and to ask about how to pursue careers in the many different professional areas involved in regeneration projects, including Ecology, Quantity Surveying, Planning and Development, Project Management and Law; Jack and Will advised on making informed University degree choices, and on capitalising on the options that can open up in the early stages of your career. And of the importance of exploring different professional avenues as they emerge and stimulate your interest.
Year 7 had a multitude of questions for the visiting speakers and were particularly keen to ask about the optimal subjects to study in school in order to plan for careers in these areas, and about the daily challenges and rewards of working in this field.
Of great interest also to our students was the environmental aspect of regeneration, and Jack and Will explained the importance of Biodiversity net gain to the project, and the strategies used to ensure that the surrounding environment, areas and community are positively impacted by the development.
Overall, a greatly rewarding and insightful experience for Year 7, with huge thanks to Jack and Will for visiting and to our Careers department for organising and supporting our students!
Year 10 Careers Provision this week
There has also been ongoing Careers provision for Year 10 this week (which will continue into next week) with Group Sessions with Amy Marshall (Careers Adviser & Co-ordinator) taking place in the Large Conference Room. Students have been attending in groups of up to 15 to explore their future post-16 options, including mainly A Levels, Applied Qualifications (e.g. Applied A Levels and BTECs), T Levels, Technical & Vocational Qualifications (e.g. City & Guilds and NVQs) and Apprenticeships.
Discussions take place around key information relating to 6th Forms, Colleges, Apprenticeship Providers and Universities to consider future pathways. Students will complete a survey to help Amy plan for the Year 11 one-to-one Careers Guidance Interviews that take place between September and November in the Autumn Term, and will leave with detailed information for further research over the summer to help them feel more prepared for the Autumn Term when many decisions will be made. Parents/carers will be sent all the information too, once all students have been seen, to help support their children with thinking ahead to their post-16 choices in Year 11. Students are also able to access additional support in the Careers Office during Wednesday lunchtimes as part of the weekly Careers drop-in session.