Isaac continues to scale the heights!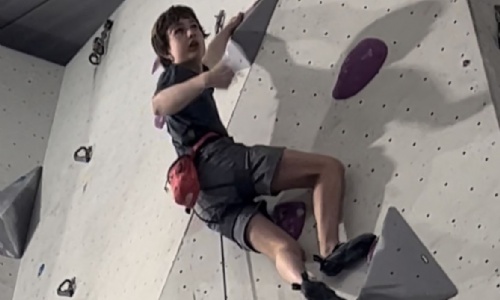 Year 8 Isaac reports on his climbing success!
In an amazing achievement, Isaac, who was selected for the English National Climbing team earlier this year, recently won the Welsh National Lead Championship.
This is his story:
I started climbing when I was just 5 years old, and now, at 13, I'm amazed by how far I've come. I showed early promise and was even invited to join the advanced "Rockets" group ahead of time, which was pretty cool.

When I was 8, I entered my first climbing competition called the Youth Climbing Series. Despite going up against older and more experienced climbers, I managed to make it to the final event in Scotland. I may have ended up in 24th place (near last), but I'm proud of the effort I put in and the experience I gained.

What I love most about climbing is the people I've met along the way. The climbing community is like a second family, always there to support and encourage each other. And there's no feeling quite like the sense of accomplishment when you finally conquer a challenging climb you've been working on for a long time.

Training can be tough, though. It can get repetitive and boring sometimes, but I understand it's necessary for improvement. I train six times a week, splitting my time between Leeds, Sheffield and Manchester. I also do two running sessions per week and hit the gym for conditioning six times a week to stay in shape.

Last year was a big year for me. I won the Youth Climbing Series and became the overall champion. It was such a thrilling experience. In the British Lead Championships, I managed to grab the second-place spot, competing against some really talented climbers.

And just recently, I won the Welsh Lead Championships and gained a place on the England National Talent Team.

I owe a lot of my success to the amazing coaches of the Precision Climbing Team. They're considered the best in the UK (or even the World), and I'm lucky to have their guidance. Being part of this team also means I'm surrounded by incredible climbers who compete all over the world, which is super inspiring.

Looking ahead, I'm really excited about the Scottish Lead Championships coming up. Being part of the Precision Climbing Team and the England Talent Team, I'm hoping to be selected for the GB Climbing Competition Team for next year which will include international competitions. I'm motivated to keep working hard, with the support of my coaches and teammates, as I continue my climbing journey

By Isaac 8R
Well Done Isaac, good luck, and we look forward to hearing about the Scottish Lead Championships!