unbeaten in netball!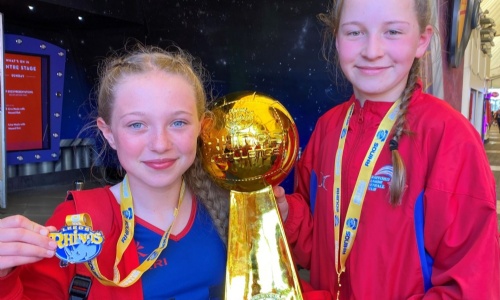 Year 7s Elsa and Mimi on their Netball Success - unbeaten in 7 games over 2 days!
Mimi and I play for Trafford Junior Netball club. We entered the Rhinos challenge netball tournament that was hosted at Butlins in Skegness at the weekend where over 100 netball teams entered, and we competed against 22 teams in the Under 12's.
Day 1 saw us win every match in our group which meant we were through to compete for the Main cup on Day 2.
We started strong with a physical game against Wyre taking our first win of the day. This was the start we needed before facing our toughest competition of the tournament, Tameside. This was a very intense game, and we gave it everything we had to take the win 13-11.
Our final game was against Grangetown, and we remained unbeaten with a draw.
At this point we had to wait for the other results, although we had a feeling the cup was ours!
Our coach confirmed our win, and we headed back for an amazing presentation ceremony where we were presented with our trophy by four Rhinos netball players.
Report by Elsa 7T