opening gambit at ug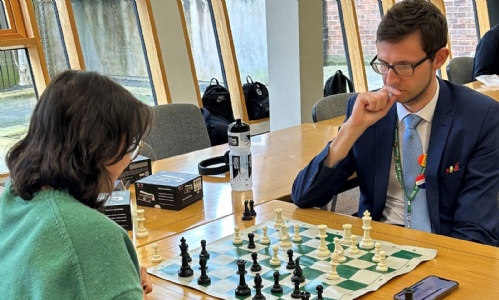 Inter-house Chess Tournament this week & the continuing success of our Chess Club
On Tuesday the latest inter-house chess tournament took place, with students from years 7 to 12 participating with staff. Year 12 Arina is pictured in competition with Mr Tabor, leader of Park House, but the outstanding player was Year 7 Daniel, who won an impressive four matches.
An outstanding result and experience for all involved!
The Inter-house chess tournaments are organised every Half Term by Club and House leader Mrs Chadwick; they offer students an invaluable opportunity to get a first experience of tournament chess in a relaxed atmosphere, and to engage with students and staff from across the school.
Chess Club continues to thrive at UG: it runs every Friday lunchtime and students from all year groups and all levels are welcome to participate. It is fantastic extra-curricular provision, affording a space and opportunity for both beginners and more experienced players to develop, with the latter offering support to those who are just starting out.
And our Chess players enjoyed success this year in the Ivan Gromov online chess league, whose organiser at Eton College approached UG to participate at the beginning of the academic year. Two of our teams competed against opponents from Eton College, Magdalen College School, and Brentwood School amongst others, and we took 14th place in a League of 34 teams. A fantastic result, well done all!
If you would like any further information about Chess Club at UG please contact Mrs Chadwick:
rchadwick@urmstongrammar.org.uk