music for the community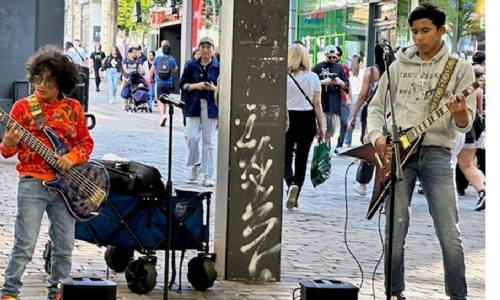 Talented Year 8 Oscar performs for good causes
Year 8 Oscar is not only an accomplished guitarist and vocalist but kind-hearted too, and frequently spends his spare time, in company with his brother, busking to raise funds for worthwhile causes in the community, including his local church, primary school and the community music school Music Shed that he attends in the evening.
They mainly perform in Manchester where they enjoy the rapport with regular fans, but they also cross the border and go further afield to cities such as Leeds and Hull!
Oscar is working towards Grade 8 in guitar and Music is understandably one of his favourite lessons here at UG, and he is looking forward to bringing his guitar in for forthcoming lessons in the Blues. While performing, however, his set-list is principally heavy rock, with Iron Maiden, Metallica and Black Sabbath being firm favourites. So talented are Oscar and his brother that they are even able to perform ad-hoc song requests from the public audience, who are happy to donate to their fund-raising in exchange for hearing their song of choice!
It is no surprise that Oscar's career aspiration is to become a professional musician and song-writer, and he is currently developing his own compositions in a small studio at home.
Congratulations Oscar on your admirable fund-raising, and we wish him the very best of luck in his professional future!