digitising student reading at ug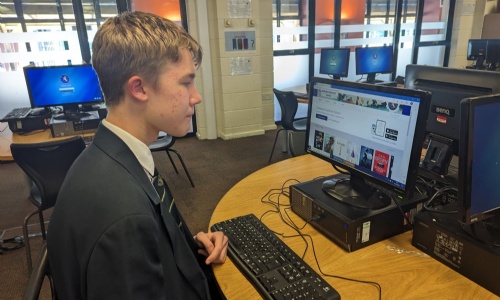 Year 10 Thomas trials and reports on our exciting our new e-book platform!
Some people say that reading is all the same. I can tell you from experience that they are incredibly wrong. Everyone thinks differently and because of that there is no 'correct' way to read. The idea of reading that is most commonly known is to sit down with a large collection of paper in hand, but that doesn't work for everyone, and it can be hard to get into reading if you don't like to do this.

This is one of the reasons why a new system has been introduced in school to help you get back into reading: the Urmston Grammar e-book Platform library. This allows everyone in school to log in online and read a book completely free, anywhere they like. All you have to do to have a library on demand is to log in to the Urmston Grammar ePlatform site on any device, and then choose to borrow, reserve or request whatever book you want. From there, you can customise nearly everything about the book to be exactly the way you like it. You can change the size of the words, spacing of the lines and even have the book read out for you. These are just a sample of some of the different customisations available on the website, and all in the convenience of your pocket. Which cannot be said about the design of many books!

To find out how this is different from any other way of reading, I tested the ePlatform against a regular book. With the regular book, even after multiple attempts, I was unable to change the size of the text or the spacing of the lines, and there was no option to have the book read out loud. I also couldn't make notes without ruining the book completely, and therefore feeling an extreme feeling of guilt inside my soul for the rest of the week.

This is all a bit large but with ePlatform, you can fit this all in your phone! (Matthew Petroff, Wikimedia Commons)

My point is that this is a great opportunity to find your ideal way of reading and to get back into reading. Something as simple as a slight change in the way you read could mean that you read much more often and start to enjoy it.

Reading might seem boring at first, but it can and will be exciting if you find the way you want to read and what you want to read. It takes resilience, no doubt about it, and you may just have to accept that there are some books that you just don't like or don't understand, but there will be a book out there for you.

Reading is important and can help you feel more relaxed, and it is beneficial to your learning. Even if you aren't that keen on the idea, I urge you to give this new system a try; at the very least, it might just surprise you.

Report by Thomas 10T
And here Miss Hammond, our Literacy Co-ordinator, explains the value of the e-platform to our whole school Literacy programme:
Reading is at the heart of the learning process, whether you are reading academic material or reading for pleasure, any and all reading is invaluable in developing literacy skills. The importance of a confident command of literacy cannot be stressed enough. With excellent literacy skills in reading, writing, speaking and listening, you will have doors opened to you in any area you choose. We believe that this literacy toolkit starts with reading. Urmston Grammar already has a wealth of reading material in the library and reading room for you to choose from, but with the addition of the ebook platform you can access a broader range of books at school or at home. This will enable all students (and staff!) to read in a format of their choosing, for example on a Kindle or mobile phone. It will also enable access to a fantastic library during the school holidays, meaning that you can read all year round!