Turing tumbles while ug goes to the polls ... and to Wales!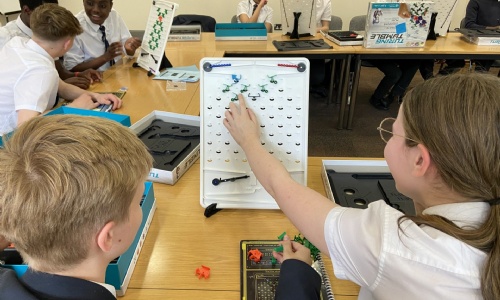 National Numeracy Day, Year 10 Geography Field Trip, Elections, Chess, and more in another busy week!
National Numeracy Day

To mark this on Wednesday, our Maths department arranged for students to try out some newly-acquired Turing tumbles; pictured are Year 10 using the tumbles to work on their logic and reasoning skills to solve challenges and build mechanical marble powered computers, and there will be many other numerical activities and challenges taking place during the coming week!
Year 10 Geography Field Trip

Year 10 Geographers headed to North Wales for an investigative residential field trip that contributes to their GCSE course, conducting physical fieldwork studying the effectiveness of coastal management at Criccieth. They were pleased that the traditional North Welsh micro-climate of persistent fine rain was not in evidence, and we look forward to reading their account of this trip on their return later today!

Preparing to head out into the field
Senior Prefect Elections
On Monday, Sixth Form students and staff took part in voting for our new Senior Prefect team after studying their carefully-crafted manifestos.
The results are already in, and we look forward to profiling the new team and hearing about their plans soon!
This week Year 12 also welcomed visiting speakers: on Monday a representative from the University of Huddersfield shared invaluable advice on UCAS, the University application process and the preparation of personal statements; and on Friday a representative from UA92 spoke about interview processes and performance, timely guidance ahead of Year 12's Mock Interview Experience Day, which takes place on Monday next week.
Inter-House and extra-curricular activities this week have included House Puzzle events, with students competing to complete challenging word puzzles in order to win points for their respective houses; and on Tuesday students were also able to enjoy the Inter-House Chess tournament - please see our separate article for a full report.
And lunchtime Spanish Club relaunched today for any students who are keen to expand and develop their linguistic prowess!